Out of all the exciting things to do in Dubai, nothing comes close to being so fun and thrilling at the same time as a private desert safari Dubai tour. Here, you can find a ton of activities to engage in that suit your interest and skill level. However, there are a couple of things you need to understand before picking up a perfect activity that you can enjoy and have a memorable time.
There are sports activities like dune bashing/ quad biking that allow you to explore the desert in a thrilling manner. Other than that, you can also opt for camel riding and hot air balloon rides, which offer a calmer environment. If this is your first time going on a desert safari Dubai trip, you need to have a thorough knowledge of all the activities offered there so you can pick one. To help in making this choice, here is a complete guide on choosing the perfect desert safari adventure.
Popular Desert Safari Activities in Dubai
Here is a complete list of the popular desert safari activities you choose in Dubai:
Dune Bashing
A thrilling dune bashing ride is the main highlight of a private desert safari Dubai tour. A 30-40 minute ride in a luxury 4×4 Landcruiser across the desert over massive dunes offers a heart-pounding adventure that will surely blow your mind. 
An expert driver will handle the vehicle while you just have to sit back with your seat belt tightened and enjoy the ride. Bring along your camera to capture the whole journey and click some memorable pictures of the desert scenery you come across. Be aware if someone in your group has heart problems, then this ride is not suitable for them. They must consult with their doctor before going on such incursions. 
Camel Ride 
A bumpy camel ride takes you back to centuries-old journeys without cars, bikes, or airplanes. The locals used camels for travel purposes, and in fact, all the trade in the Arab world was done with the help of these majestic creatures. 
Even today, the locals have not forgotten their ancestral roots, and some still use camels for small journeys; they even offer these rides to the visitors to give them a taste of their cultural heritage. Most desert safari operators offer 20 to 30-minute camel rides where you navigate across the lonesome desert while a guide handles the camel. 
The evening time is the best for camel riding. Here, you can take your camel to the top of a hill and observe a mesmerizing sunset view that is hard to find elsewhere. This picturesque background is perfect for photographing this memorable tour.  
Quad Biking
The next popular desert safari adventure you can book is quad biking. Similar to dune bashing, if you loved the ride, you will be eager to try quad bikes. Compared to dune bashing, here you get to drive the vehicle yourself on the uneven and vast open canyons of the desert and see the sights that nature behold. 
Quad bikes are ATVs (All-terrain vehicles), and they are designed in such a way that they can traverse the rough desert conditions quite easily. Further, they are easily available for rental purposes in Dubai desert safari rides along with professional guides who can teach you about driving them and provide valuable safety tips to follow. For Quad bike rides, remember to wear the safety equipment provided, which includes a helmet, gloves, and goggles. 
If you are driving quad bikes for the first time, please drive carefully and choose any easy route that is less bumpy and has fewer turns. We guarantee you will have an enjoyable experience, and as you gain confidence and build your skills, you can take on challenging routes as well. 
Sandboarding
Sandboarding is a unique and popular activity to try in a desert safari adventure. While it is an adventurous activity but unlike others, it doesn't involve using any motor vehicles instead here, you strap yourself on wooden boards and glide down from tall dunes in a thrilling manner while keeping your balance on the board. 
You can call this snowboarding but in an opposite environment and setting while the main concept is the same. Learn new skills while you strap yourself on a board and maintain balance. 
 Sandboarding is best practiced in the evening or before sunrise. During this activity, it is recommended that you wear light and comfortable clothing.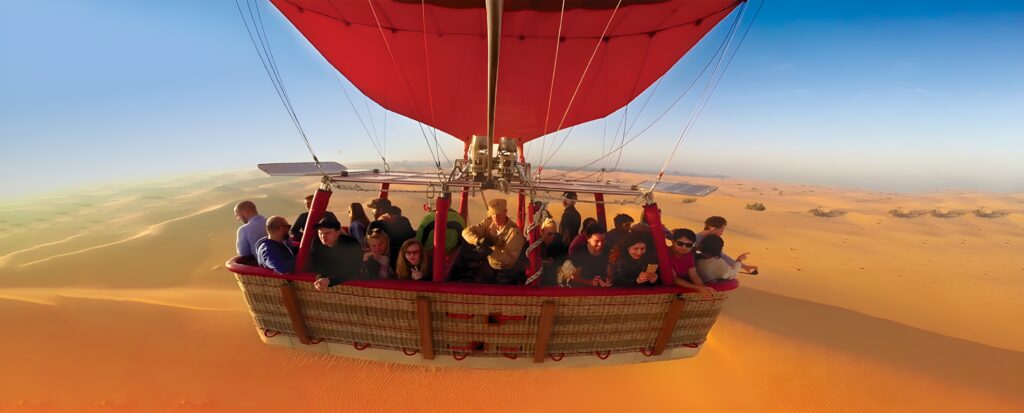 Air Balloon Ride
A hot air balloon ride in Dubai is truly an unforgettable experience. It is an unforgettable experience of a lifetime to ride a luxury hot air balloon over the Arabian Desert. As the golden dunes of the sand transform themselves into different shades of colour at different times of day, you are treated to a spectacular view of the desert in Dubai with the backdrop of the Hajar Mountains. During the trip, you will experience the sensation of floating in a cloud as you view Dubai from a height of 4000 feet above the desert. The best photographs will certainly be taken during the journey due to the splendor of the ride. Even though it is an adventure activity, the flight aboard a hot air balloon is a peaceful experience.
Nighttime Entertainment 
We have had too many action-packed adventure activities on a private desert safari Dubai tour now; let's head down to a campsite for entertainment and dance performances that showcase the cultural elements of the region. An important thing to remember is that these performances are not available for the Morning Desert Safari package; you have to book an evening or overnight safari package. 
There are many entertainment activities offered in the Arabian deserts of Dubai, such as fire eating, stilt dancing, swirling, and belly dancing, which make your evening desert safari Dubai experience even more pleasurable. 
You can also dress up in traditional Arabian clothing attire at the camp and photograph these moments. Further, there are Henna painting artists available who can adorn your body with colorful paints; this is a must-do activity for newlyweds because it's supposed to bring luck.  
Delicious BBQ Dinner
After trying on all the adventurous excursions, you need a break and time to energize your body. Well, luckily, on a desert safari trip, you get to enjoy the delicious local cuisines consisting of a BBQ buffet at the campsite, which is sure to fill your appetite and lighten your taste buds. 
There are also options for vegetarian and non-vegetarian dishes; just remember to tell your tour operator in advance about your choices so they can make the necessary arrangements. 
Stargazing
There is no doubt that Desert Safari in Dubai provides the best nighttime experiences in all possible ways. The night sky of the Arabian Desert will be illuminated by celestial events and stellar displays as soon as the sun sets. In your desert camps, you can enjoy complimentary treats as well as Arabic coffee while stargazing. 
You can unwind from the day's adventure stress in the desert under the canopy of stars. Once the heat of the day subsides, you can also observe several animal species. While Dubai is known for its grand lifestyle, the desert atmosphere is a haven for those seeking peace and serenity.
Here, we conclude our desert safari tour, and among all the activities mentioned, you must choose those that interest you. 
Types of Desert Safaris Offered in Dubai
Here are 3 types of desert safaris to choose from for your adventure in Dubai. All are unique in their own way and offer thrill and fun. 
If you are a morning person, this is a fantastic deal for you. This package is ideal for people who enjoy the serenity of sunrises and early mornings. The sunrise view is a heavenly experience that must not be missed at all. Although in the morning you don't get campsite entertainment or BBQ dinner options but the adventurous activities are ideal to try at this time, such as dune bashing, quad biking, and sandboarding. 
If you are busy later on during the day and don't have spare time, then the morning deal is best for you. At Desert Planet Tourism llc, you will also get pickup/drop service in a luxury 4×4 vehicle. Let us know the location, and we will handle the rest. 
The evening Desert Safari is an unforgettable experience that will let you create special memories. Evening desert safari is the most sought-after safari package that tourists book, and why not? Here, you get to experience every activity offered and have the best time in a peaceful desert setting away from city noise and crowds.  
The safari starts with a thrilling dune-bashing ride, and afterward, you can hop on a quad bike or go for a sandboarding session, both equally entertaining. When done with the adventure around sunset time, head to the campsite and savor a delicious BBQ dinner, enjoy dance shows, and try on henna painting. Those not interested in adventure can choose camel riding, horse riding, or hot air balloon trips to explore the natural beauty of deserts. 
There is an adventurous vibe associated with the night itself. A thrilling overnight safari is one of the most thrilling experiences of all, and adventurous brave-hearts should try it at least once. As part of the experience, you will have the opportunity to camp, sleep in tents, and explore the desert at night in the midst of the eerie darkness. 
The overnight safaris are also the most eventful, with a wide variety of fun activities and events. There are a number of activities to choose from, including camel rides, sand skiing, quad biking, henna art, barbeques, dinners, camping, and belly dance performances hence everything in the evening safari package and more.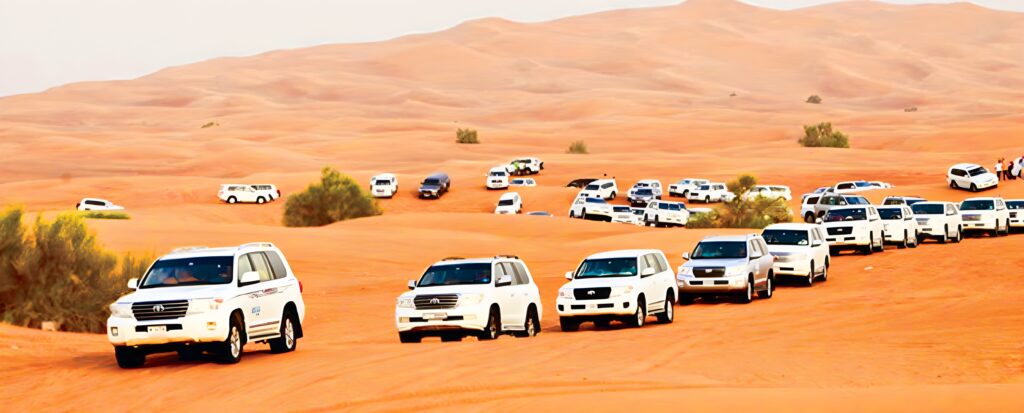 To help you in selecting the best desert safari adventure, here are some key things to note:
Identify Your Preferences
From the activities mentioned above, you must determine the type of experience you want to seek. Whether you are looking for an adventure, then you choose dune bashing, sand boarding, quad biking, and similar activities in your package. If you want a peaceful adventure and have no interest in adventure, then opt for campsite entertainment, camel riding, and hot air balloon rides. Well, you can have both as well if you want and have enough budget.
Research Tour Operators
After deciding on your preferences, you must choose a reliable tour operator that offers all these activities that meet your budget and has a good reputation. Read the online reviews from previous customers when making this decision.
At Desert Planet Tourism llc, you get top-notch services along with specially curated packages for your group. We have more than 10 years of experience in providing desert safari services, and every year; we strive to improve ourselves and become the best in the industry. Do look at our packages and contact us at the number provided.
Decide on the Timing of Tour
Most desert safaris are offered 3 times, mainly: Morning, Evening, and Overnight as we have explained all three above in detail. The morning safari doesn't include campsite entertainment, BBQ dinner, and Stargazing, just a little refreshment at the campsite along with adventure excursions. So if you have no spare time later during the day, then Morning Safari is best for you.
Rest we recommend Evening and Overnight Safari for a full desert experience.
Budget Considerations
Set a budget for your desert adventure and compare the prices and offerings of different tour operators. Consider the value provided by each tour package in terms of included activities, amenities, and overall experience to make an informed decision.
Check for Safety Measures
If your preference is adventure rides then you must assure that your tour operator provides the safety equipment necessary trip to keep you safe and secure. The rides like quad biking and sandboarding requires helmet and goggles that your operator must provide in top-class condition.
Read customer reviews to ensure that they provide the quality of safety equipment and no issues arise later on during the ride. Never compromise on your safety.
A private desert safari Dubai offers a diverse range of activites that everyone who is visiting the city should try once in their life. To decide on the perfect desert adventure we have compiled this guide for your help. 
For more information you can contact Desert Planet Tourism llc services for guidance in choosing the best safari package that meets your budget and preferences.