While most people are drawn to Dubai for its impressive skyscrapers and variety of leisure activities, this enchanting Arabian city is much more than that. A Dubai Desert Safari excursion takes you out of Dubai's city limits into the blissfully new desert land, approximately 20 to 30 minutes from the city.
With good reason, it caters to a wide range of tastes and experiences. Here is a guide that will assist you in selecting the best Dubai desert safari if you need help deciding on your desert trip.
What is Private Desert Safari in Dubai?
The private desert safari Dubai is a guided excursion into the vast expanse of desert sands outside the main city. A stark contrast exists between the desert and Dubai's glitzy part filled with skyscrapers and shopping malls. 
You leave the hectic city life for a few hours by taking an off-road trip without noise and crowd. All you'll experience here is utter silence and absolute tranquility accompanied by the unequaled beauty of the dune landscapes.
Here is What You Can Expect On a Dubai Desert Safari
Desert safaris in Dubai combine natural wonders, adventure, and the most incredible opportunities for ethnic and cultural exploration. On your desert safari, expect to enjoy the following activities. However, it is important to note that inclusions may vary based on your chosen Dubai desert safari package.
The dune bash involves driving an expertly maneuvered 4X4 vehicle. It is an excellent vehicle for navigating between low and high dunes in the most compelling manner possible. This is a highlight of the Dubai desert safari experience for adventure seekers.
Experience the Hospitality of the Arabian People
After the dune bash, the group will be guided to the Bedouin-style campsite. You still have some time to spend here before the Dubai desert safari concludes. The hospitality here begins when you arrive with Arabic coffee and warm greetings accompanied by fresh dates. You would then be energized to embark on your next adventure.
Splendid Sights of the Sunset and Sunrise
One of the specialties of the desert safari Dubai is the opportunity to witness sunrises or sunsets. You can't help but take a few photographs as the sun rises or descends amidst the raw beauty of the desert.
Hop on camelback and enjoy a cool roller coaster ride as the colors of the desert dunes change. As well as being fun and thrilling, it provides a glimpse into the simple lifestyle of ancient Emiratis since this friendly animal was the only source of transportation and food before the advent of the oil age.
Quad Biking and Dune Buggy Riding 
How can you forget riding quad biking and a dune buggy on a desert safari Dubai? They are the most heart-pounding adventure one can experience, similar to riding a roller coaster. 
A Dune buggy is a small cage-shaped vehicle like a go-cart that you can drive at high speeds on dunes of the desert. A quad bike is similar, but functions like a bike, but is a little challenging to drive. Both rides give a hell of entertainment and enjoyment. However, the quad bike is a little difficult to handle compared to the dune buggy. 
A desert safari Dubai doesn't have to be filled with adrenaline rushes; numerous activities allow you to explore the desert's rich history, culture, and traditions. Take pictures wearing customary Arab attire. Get your hands tattooed with striking henna designs, smoke Shisha, and enjoy falconry during your visit.
The thrilling sandboarding experience is a must-try activity for anyone with a sense of adventure. You can ride a snowboard down the dunes while strapped into a board. Exploring the desert landscape and making lasting memories is an exciting way.
The main highlight of an evening or overnight desert safari in Dubai is the opportunity to see this. The culinary quality and taste will significantly vary depending on your selected service provider. However, most companies offer lavish BBQs featuring live cooking stations and designated counters for fresh fruits, delectable traditional desserts, etc.

Amazing traditional entertainment will enrich your evening or overnight Dubai desert safari. Starting from the sensual belly dance show to the gorgeously dervish Tanoura and fire shows.
A desert safari Dubai is much like any other safari, but one thing that sets it apart is the overnight safari. After engaging in several energy-draining activities in the morning and evening, you'd want to rest and have a good night's sleep; well, you can do that at the camping facilities available within the desert. 
Since the majority of camping facilities are within the desert, all that is left for you to do is relax and take pleasure in the excitement of Dubai's desert at night.
If you are looking to book a desert safari tour on your next trip to Dubai, you can contact Desert Planet Tourism LLC.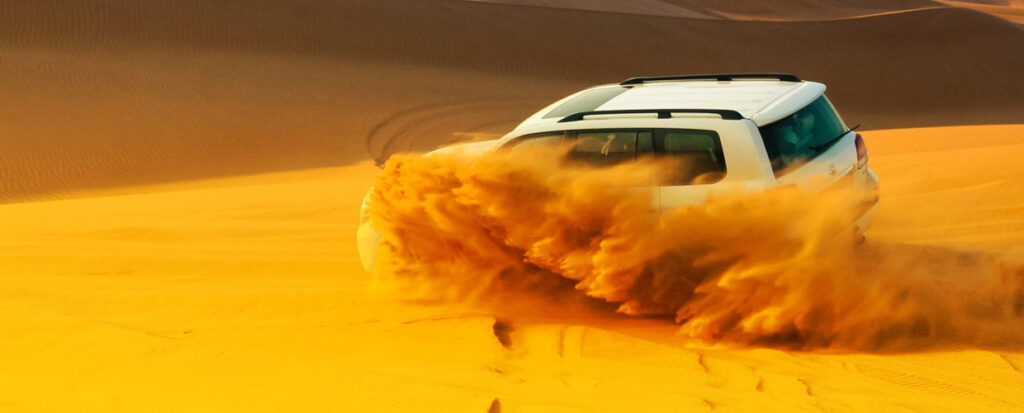 Safaris in the Dubai Desert
Dubai Desert Safaris are available in a wide variety of forms, so let's review each one.
Morning Desert Safari Dubai
The best desert safari for you is this one, regardless of whether you are short on time or wish to explore the inspiring desert flora and fauna. You can enjoy numerous activities during this desert safari, including dune bashing, camel rides, sandboarding, dune buggy riding, etc.
Al Lahbab's mysterious red dunes are the perfect addition to Dubai desert safaris. Whether an afternoon or morning, a desert safari will guarantee an enjoyable experience enhanced by enigmatic thrills and enigmatic fun.
Ride a quad bike down steep dunes as you experience the thrill of an adrenaline-pumping ride. You can use a sandboard to glide across the desert's soft red sands. After you are done with biking and boarding, you will be taken to a desert camp to relax after an exhausting day. Riding on a camel is an enjoyable way to take in the expanse and peace of the red desert.
Be sure to bring your camera to capture breathtaking views of the red desert.
An Evening Desert Safari Dubai
Adventure seekers visiting Dubai should not miss the Evening Desert Safari. Your hotel will arrange convenient roundtrip transportation in a four-wheel drive to take you out to explore the Arabian desert. Try sand boarding or other activities like camel riding, dune buggy riding, dune bashing, and henna painting. 
You can capture breathtaking views of the desert during sunset on this tour, so be sure to take photos. The evening concludes with a Tandora and belly dance performance under the stars, followed by an indulgent outdoor barbecue dinner and unlimited soft drinks.
Overnight Desert Safari Dubai
Overnight desert safaris in Dubai offer an opportunity to leave the glittering city and venture into the vast skies of the desert. Before descending into the desert, you will pass through the beautiful streets of the city. 
The adventure sand dune drive begins once you get there, so buckle up and buckle your seat belts. Drive across the Arabian deserts and experience the thrill of dune-bashing as you finish up in a Bedouin camp. Among the activities you can undertake are sandboarding, camel riding, and others. Watching the sunrise and sleeping under the stars will be two of the most amazing experiences you will ever have on this safari. 
Since you will stay overnight in a desert, we recommend packing sweaters, especially in winter. 
A private desert safari Dubai offers an unrivaled off-road adventure you will never forget. From the adrenaline-pumping dune bashing to the serene camel rides, sandboarding thrills, and cultural immersion in a Bedouin camp, every moment leaves you with an enchanting and exhilarating experience. 
As the sun sets and the stars illuminate the night sky, you'll realize that a private desert safari in Dubai is not just a thrilling experience but a truly transformative journey. So buckle up, embrace the adventure, and embark on the ultimate off-road escapade that will transport you to the captivating realm of the desert.