Dubai, the capital city of the United Arab Emirates, is rightly considered to be one of the most prestigious cities in the Persian Gulf region. While the city displays a glittering skyline, a vibrant nightlife, and abundant luxurious experiences, a private desert safari Dubai adventure remains one of the most memorable experiences.
There is nothing like spending a memorable day and night in the great Arabian Desert, which includes safaris, wildlife-watching aboard Land Rovers, and experiencing an array of entertainment in an Arabic tent in the middle of the desert.
When spending time in the great Arabian desert, you will find many activities and romantic accommodations to make your time there memorable. Select the best desert safari attractions in Dubai and make the most of them. The following are some of the best and most unique activities you can try on your desert safari trip.
What Defines a Memorable Desert Safari in Dubai?
A desert safari in Dubai offers the experience of a lifetime due to the vastness of the Arabian desert, the lushness of the sand dunes, and several daily activities. We offer a wide range of photography tours, adventure safari experiences, evening and night safaris infused with adventure, and memorable nights in the cold desert. Also, you can arrange a customized tour for your group by booking a desert safari Dubai.
Undoubtedly, Dubai night safari exhibits the best of Arabian nights with its exciting rides, Arabian music, and sumptuous food. Many activities are available in Dubai's desert safari, which starts with picture-perfect mornings and ends with colorful nights.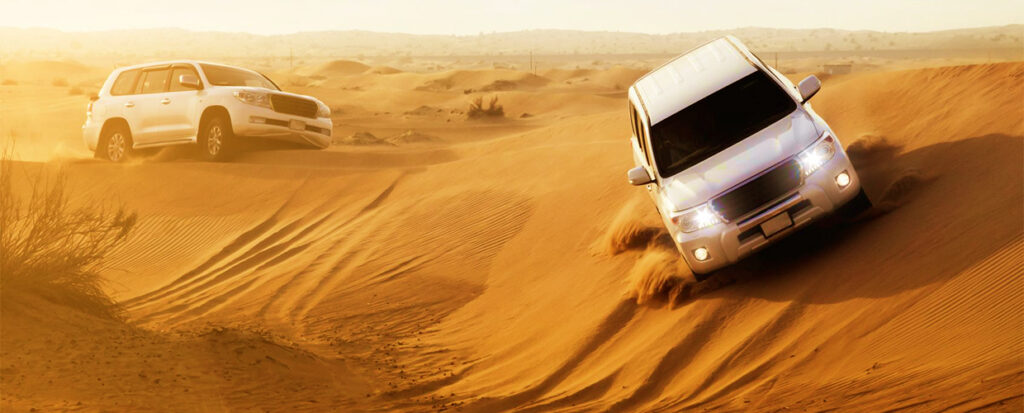 Top 6 Best and Unique Activities To Try on Desert Safari Dubai
The following are some of the best and most unique activities you can engage in on a desert safari tour. Always ask your tour operator for safety equipment while trying these activities.
Dune bashing is one of the most enjoyable forms of off-roading. One of Dubai's most popular sports, safari, is a classic adventure sport. It is a thrilling experience to watch 4×4 vehicles thrash through the dunes as they traverse the course.
The dune bashing experience is like a roller coaster ride for many passengers! It combines heart-pounding sensations as sand sprays into the air and the ground slip underneath you when you traverse at high speeds on the dunes.
Only drivers familiar with the territory and know how to handle the vehicle can make this ride exciting for you. You can even stop and capture a wonderful moment on your camera with your family and friends while riding along the dune peaks. Witness the sunrise and sunset and observe as the sand changes color with sunlight.
Quad Bikes deliver thrills and adventure like no other machine. Dubai's dunes are the perfect place to use these all-terrain vehicles. Their roller-coaster ride climbs peaks and thunders down slopes in an adrenaline-pumping experience.
It is easy to operate the Quad Bikes; even beginner riders can easily navigate the dunes. Training instructors will accompany each ride to ensure the trail is safe. Certainly not for the weak-hearted, a quad bike offers great power and is an exciting and adventurous experience. You can take beginner lessons if you are unfamiliar with handling these vehicles.
Do you wish to take your loved one on a unique adventure and have some wonderful moments? Then you should consider Dune Buggy riding! It is an open-air 4X4 vehicle with four passenger seats and a driver, which is monstrous and rugged in design. This ride will provide you with many thrills, and you will be screaming with joy along with your family and friends.
A dune-bashing excursion is possible, as well as traversing incredibly high dunes. You may stop at the dune peaks and take in the breathtaking desert panoramas for quiet solitude. We at Desert Planet Tourism provide a thrilling adventure ride in the Dune Buggy driven by expert drivers familiar with the terrain and striving to provide the best trip ever!
Experience the beauty of the sunset over the rolling desert terrain from 4,000 feet in the air! Enjoy the sights of the desert and Dubai skyline on a hot air balloon ride.
You can also view the spectacular landscape of the Dubai desert safari and the city skyline, backed by the Hajar mountains. Witness from the sky as the golden dunes change color according to the sunlight that shines.
Even though balloon riding is an adventure activity, it is peaceful and calm, unlike dune bashing and quad-biking. So those who are not interested in adventurous experiences must book an air balloon ride on their private desert safari Dubai tour.
Nothing is more adventurous than riding a bumpy camel in Dubai's deserts on a safari. A 45-minute camel ride through the lonesome desert of Dubai takes you on a journey through desert wildlife. Dubai safari experiences are best enjoyed on the evening camel ride, which provides a mesmerizing view of the sunset and falconry displays.
Golden sunset colors and sand create a picturesque backdrop for tourists, offering several photographic opportunities. Tourists may choose to spend the night in the desert following the day's activities in which they can participate in a Tanura dance performance, enjoy delicious barbecues, and smoke shisha.
Although the daytime activities in the desert are all about adventure and thrill, the nights are full of entertainment and fun, making the Dubai desert safari among the city's top activities.
Taking part in an evening desert safari Dubai experience includes various entertainment activities such as fire eating, dancing on stilts, swirling, and belly dancing. Our luxury tents have delicious food that will delight your taste buds, featuring exotic barbeque dinners and mouth-watering Mid-Eastern delicacies.
It is the most well-trained artists who perform belly dancing under the starry sky that brings the true grandeur of the site to life. Guests of the Dubai desert will experience a unique and exotic camping experience that will give them one of the most memorable experiences of their lives.
Stargazing on the Night Camp
A stargazing session in the middle of the desert at night is unlike anything else you've ever experienced. In all the excitement and heat from the activities, it is a very relaxing occasion. Taking a nighttime astronomy tour with an expert can enhance your stargazing experience.
We hope this comprehensive guide helps you plan your itinerary for your trip to Dubai. For more information and booking, you can contact Desert Planet Tourism support staff on Whatsapp or Email your queries.