A desert safari adventure is among the top things one can do while on vacation in Dubai. Although there are countless activities one can find here, but a private desert safari Dubai is unique in the sense that it allows visitors to explore the desert and natural surroundings of Dubai.
To enjoy a desert safari Dubai with full comfort and make it memorable, one must come prepared. The clothes choices to wear on this trip are important considerations. If you are wearing the wrong type of clothing, you may feel uncomfortable and be unable to enjoy certain activities to their fullest potential.
Several people have mentioned that the improper clothing they wore prevented them from participating in certain activities on the desert safari. Be sure to dress appropriately for a desert safari so you don't regret your decisions.
Read this guide till the end to know in detail the answer to the question "What to wear in desert safari Dubai." With an experience of nearly 10 years, we at Desert Planet Tourism know very well the requirements and needs of customers.
Temperatures in Dubai Desert's
It takes a lot of knowledge and skill to dress up for a private desert safari Dubai. It all depends on the desert conditions on the day and at what time of year you have planned the tour. The dress code may vary depending on the summer and winter seasons.
Many people, especially first-time visitors, often forget this important aspect when going on a desert safari tour. Well, starting off, you must know the heatwave conditions of the desert, and Dubai deserts are among the hottest in the world. In summer, which usually lasts for nearly 7-8 months, the daytime temperature is around 41 degrees Celsius, while in winter, it usually hovers around 26-27, which is still a little warm, but these conditions last only 4 months.
When visiting in the summer, you should expect arid, humid, and sweltering conditions. The winters are mild; however, once the sun sets, it can become quite cold.
Knowing the climatic conditions in Dubai will assist you in choosing the appropriate clothing for your desert safari. Due to the heat, you will not be able to participate in some of the adventure-filled activities.
Below, we have outlined the recommended dress code to follow for a desert safari tour, with keeping temperature and local cultural values in mind.
Recommended Dress Code for Dubai Desert Safari
Here are some simple guidelines to follow for a comfortable and safe desert safari experience based on deep research and tourist reviews. In the next section, we will discuss clothing choices for each safari activity. 
Since it can be quite hot in the desert during the day, lightweight fabrics are recommended, especially if it's summer. Material that is breathable, such as cotton or linen, should be preferred to synthetic materials.

Bringing a jacket or sweater in the evening is recommended because the temperatures can drop rapidly.

Wearing long sleeves and pants will protect you from the sun and from any desert wildlife that you may encounter.

It is recommended that shorts or pants reach a minimum length of mid-thigh. It is not acceptable to wear shorts that reveal your bottom in the local community.

For women, it is best to avoid outfits that reveal excessive cleavage. As long as the tops do not reveal too much skin, sleeveless tops are acceptable.

Guests should avoid wearing short skirts, as meals are often eaten on the floor, making them uncomfortable, especially during a gust of wind.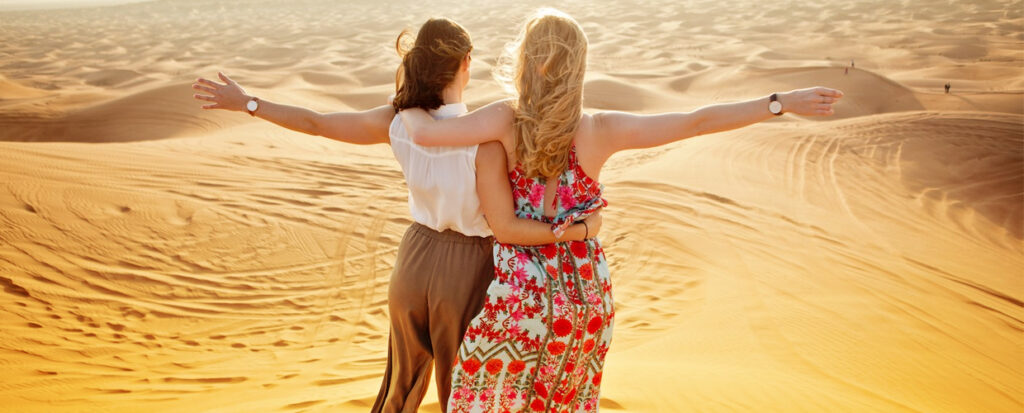 Dressing for the Desert Safari Activities
There are tons of activities you can enjoy and participate in at a private desert safari Dubai. For each activity, dressing requirements differ to match the comfort level. Here is a general breakdown of each activity:
Dune bashing is the heart of desert safari and is the first activity to begin your adventure. 
It is such an activity that jolts your body since you'll be traveling at varying speeds, and you must wear clothes that stay in their place and not move around much. We are talking about skirts, sarees, or any free-flowing garments that must be avoided because they can get stuck or entangled. 
To ensure the safety of yourself and other passengers, you should refrain from wearing clothes or accessories with spikes or pointy details.
Camel riding offers you an authentic cultural experience as you travel slowly on the sand alongside being guided by an expert who holds the camel. It is a very comfortable ride; however, those who are trying it out for the first time may experience some discomfort if the clothes choices are not correct. 
Rather than wearing skirts or dresses, choose shorts or pants. The outfit should not be made from coarse materials or have sharp details, as this could potentially harm the camel, and it may do the same to you. 
In sandboarding, you will probably be hitting the sand when descending from tall heights on a board. For this, we recommend wearing closed-toe shoes so no sand enters your feet, which you might later end up cleaning. Here again, we recommend wearing shorts and avoiding free-flowing clothes. 
Quad Biking/Dune Buggy Rides 
Quad biking and dune buggy rides are extra sports activities that only adventure enthusiasts like to try on. Your tour operator will probably guide you best on what to wear and what not for this ride. The clothing choices will be the same as for the dune bashing, which is to avoid wearing free-flowing clothes because they might get stuck in the vehicle. 
Also, here, you will drive the vehicle yourself, and you're straddling onto something, so don't wear short skirts. If you have long back hair, do tie them; this is important to remember, especially for females. Sports-wear clothing is the best choice for this activity, which your tour operator will provide you. 
At Desert Planet Tourism llc you will get the sports clothing for quad biking and dune buggy rides as a part of your package and don't have to pay anything extra. 
BBQ Dinner and Entertainment at the Campsite
It is typical for BBQ dinners to be served on floor rugs. So, it is ideal to choose outfits that will be comfortable when seated on the floor. Tanoura performances and belly dance performances take place while everyone is seated. It is best to avoid wearing short skirts. We recommend carrying extra tops so that you can change into a fresh pair after your day's activities are completed. Sitting down can be done in sandals or flip-flops.
Also, the entertainment performances happen at nighttime, when temperatures can drop drastically, so bring along a jacket or a sweater if you have booked an evening or overnight desert safari tour.  
To enhance your desert safari experience, there are several items you should carry. Don't forget to pack a hat for your day in the desert in addition to your ideal horse race headgear. 
Wearing a hat can provide you with much-needed protection from the sun, as well as from the winds, which can occasionally pick up without warning. If you prefer, you may choose to wear a scarf that will cover both your head and face and provide sand protection.
Be sure to bring sunglasses, sunscreen with a high sun protection factor (SPF), and a generous amount of lip balm with you. You may want to keep a few wet wipes on hand in order to freshen up as necessary if you wish to look like a true desert pro.
Further, we recommend taking extra cash if you want to purchase local souvenirs or refreshments from local shops. A camera such as DSRL, along with a pair of extra batteries to capture the beautiful scenery of the desert and for your memories. Lastly, a sand-proof bag in which you can keep all this gear without having to worry about damaging it.  
Dressing Guidelines for Flying Dress Shoots
Among the most sought-after activities in desert safari is shooting in a flying dress while sitting on a camel. There is a good chance you have seen this on your Instagram feed and may want to have your desert photos taken.
Some photography services offer the option of renting a flying dress when you book a flying dress photoshoot. In this manner, you are able to eliminate the hassle of finding clothes of your own for the event. Depending on your preferences, you can choose the style, color, and fit that is most suitable for you. If you would like your photos taken as a couple or as a family, you can rent clothes for men, women, and kids. The whole experience is completed with hair and makeup services. 
It is a once-in-a-lifetime opportunity to be a part of this photo shoot while visiting Dubai. No matter how long it takes, you'll feel like a celebrity or supermodel, even with a professional photographer.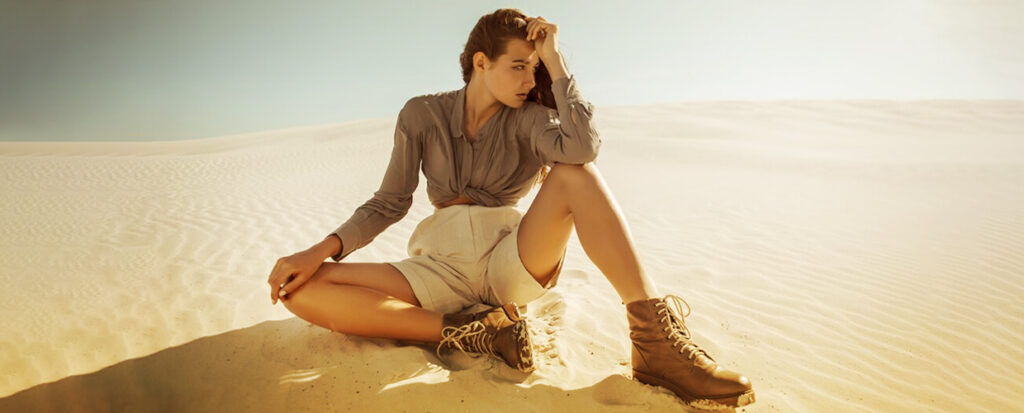 Footwear Recommendation For Desert Safari
Although we have already mentioned wearing long-toed shoes for quad biking and sandboarding activities, but those are not an ideal choice to wear at the campsite or if you just casually want to walk in the sand. They might be a little tight and cause discomfort if worn for a long time. 
You can bring a pair of lightweight, comfortable boots to wear for casual walking, and close-toe shoes are also a good choice; they can protect you from scorpions and other dangerous desert creatures if you want to go explore the wildlife reservation or mistakenly wander into a prohibited area where these creatures reside. 
Sandals and flip-flops are the best choice to wear for BBQ and campsite entertainment because they are comfortable. 
Traditional Desert Safari Clothing in Dubai
While on a desert safari in Dubai, why not dress like locals and capture memorable photos for the tour? Well, here are recommendations for both men and women.
Emiratis wear lightweight, comfortable clothing. Kandurahs are generally worn by men, which are typically white in color and do not have collars. This is a distinctive characteristic of Emirati kandurahs. The garments are light in weight and have full sleeves that provide sun protection.
Gutras, the headdress, accompany the Kandurahs. In hot weather, it protects the face and head with a white square scarf.
Abayas are primarily worn by Emirati women, though other colors such as maroon, brown, and others are on trend today as well. It is worn atop western or traditional clothing as a loose-fitting black cloak. Arab women wear the abaya as a symbol of their culture throughout the world.
Abayas are paired with Sheila's black scarves to cover the head in conjunction with the outfit.
Emirati women wear the Jalaabiya inside their abayas or at events with only women present. There are a variety of colors and designs available on the gown-like Kaftan. Jalaabiyas are similar to Kandurahs but come in different colors.
Hopefully, by now, you understand what to wear for your private desert safari tour and what to avoid. The guidelines above have been made for your comfort and with respect to local culture and values. For any more information about clothing choices, you can always call the Desert Planet Tourism llc helpline.