Dubai is a popular tourist destination, and in fact, in 2023, it was named the #1 global destination by the Tripadvisor Travelers' Choice Awards for the second consecutive year.
Are you visiting it for the first time and don't know where to start? Well, no worries, plenty of things you can find here that interest you. 
Here, you can find the tallest building, the biggest shopping mall that houses top brands, a deep water aquarium, and the largest indoor skydiving. Further, restaurants offer diverse cuisine to fill your appetite, long beaches on the outskirts to relax, and a vast surrounding desert to try an action-packed private desert safari Dubai trip. 
So, where should we begin? Here are the best ways to have a memorable and enjoyable time for those traveling to this paradise for the first time.
Best Activities to Try For Your First Visit to Dubai
Here is what you can try on your first visit to this traveling paradise.  
See New Heights For the First Time 
If you have time to visit one place in Dubai, make it the Burj Khalifa, the world's tallest building. Discover amazing views from the highest observation deck in the world, located 555 meters above sea level on the 124th floor. You can observe the city coastline, desert sands afar, and the buildings alongside highways. This view gives you a picture-perfect idea of Dubai's transformation from a barren desert to a leading metropolis. 
That's not the only new heights in the city. You can also visit Skyviews Dubai. The twin Address Sky View Hotel has an observatory on floors 52 and 53. You can walk hands-free along the tower edge over 219m and enjoy a glass sliding experience here. It may seem a little dangerous for first-time visitors, but it is completely safe. 
Sunset is the best time to visit, so you can capture the scenery of the sun going down and the city lighting up as a response. 
Shopping, Snacking, and Skating
Shopping in Dubai is easy, thanks to the abundance of malls in most neighborhoods. Unless you spend a day at Dubai Mall, you've never experienced true retail therapy. It is home to luxury brands, top-end jewelry stores, home decor, electronics, and more. 
Put your shopping bags aside, skate on the mall's indoor ice rink, or visit the Dubai Aquarium and Underwater Zoo to see 140 aquatic species. Afterward, take in the spectacular sight of the Dubai Fountain and buy snacks from one of the restaurants along the way to energize your body. 
You can also visit Nakheel Mall in Palm Jumeirah for more shopping and afterward enjoy a delicious Indian meal at Tresind Studio. The mall provides access to 'The View'- an observation deck to observe the man-made islands from 240m above sea level. 
Visitors to Dubai should visit the historical treasures, museums, and heritage areas to understand the city's history. Visit the Al Fahidi Historical Neighbourhood to tour traditional architecture and purchase authentic souvenirs at nearby souks. 
You can visit Spice Souk to try out traditional jewelry and gemstones of the region; it is also considered the oldest market in the city. Compared to the shopping malls you visited earlier, you will find local and traditional Arabic clothes here. If you wish to obtain the best price, be prepared to haggle. Also located in the area are numerous art galleries and coffee shops, including the cozy XVA Art Hotel, with 14 unique rooms that reflect the cultural and architectural elements of the area.
Explore the City Like a Local
You can easily navigate Dubai through the multiple transportation options available here. For first-time visitors, we recommend jumping abroad on the Dubai metro, which takes you toward the city's top tourist spots and shopping destinations like those we mentioned (Dubai Mall and Mall of Emirates). 
You can also hop on the tram, which takes you along Dubai Marina and to the monorail on Palm Jumeirah. Further, we recommend taking a water taxi across Dubai Creek or a traditional abra boat for just 1 AED if you want something different, and it can help you accommodate your budget.
Also, taxi services in the city are super affordable, and coming out from a hotel, you hop on one to visit your desired destination quickly.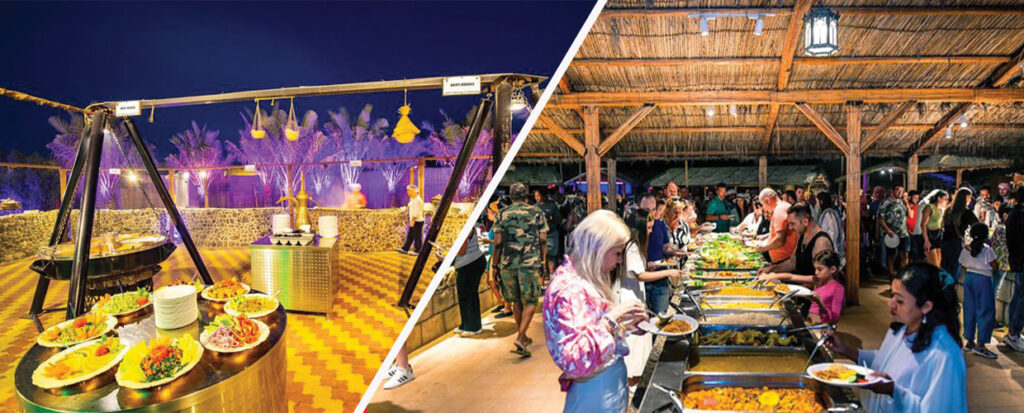 Fill Your Appetite With Local and Global Dishes
As Dubai is home to approximately 200 nationalities, you will have a wide selection of tasty food to choose from. A wide variety of cuisines is available in the city, including spicy Indian curries, meaty Arabic grills/BBQ, exquisite French cuisine, and Japanese sushi.
A recent list of MENA's 50 Best Restaurants named Orfali Bros Bistro in Jumeirah 1, the region's top eatery. If you're looking for local flavors, don't miss out on 3Fils, a locally-owned seafood eatery in Jumeirah Fishing Harbour. If you are a food lover, plan your visit to the city during Dubai's Food Festival, which takes place during the first or second quarter of the year.
In Dubai, you will have many choices to try something unique and fun. Like adventure enthusiasts can book a skydiving experience at Skydive Dubai or try out the world's longest zipline at XLine Dubai Marina.
Check out the Museum of the Future to experience next-level science and technology landmarks. It explores how human society will evolve in the coming decades and shows you far-away galaxies and stars using new technology.
Take Your Little Ones to Water Parks
How about some fun entertainment for your children? Well, Dubai has locations for this purpose. You can visit water parks; the most popular ones are Wild Wadi and Aquaventure. Wild Wadi is located beside the Burj Al Arab, while Aquaventure is situated on the Palm Jumeirah, inside the Atlantis resort.
Also, an important thing to remember is that these parks can accommodate everyone regardless of age, and as an adult, you can enjoy them here as well. Among the thrilling slides you can try are the lazy river rapids and the adrenaline-pumping slides. While for little ones, there are separate kids areas.
Legoland Water Park at Dubai Parks and Resorts is where you should go if you want something only for kids from two years to early teens.
Head Down to the Desert for Some Safari Action
Okay, enough talk about the city sightings; if you want a relaxing and peaceful environment that is less crowded, then we suggest going to the desert and booking a private desert safari Dubai tour.
Besides serene desert settings, you can indulge in some extreme sports here, and those who are adventure lovers will love it. For example, starting, you can try a dune bashing session, then a quad biking ride afterward, surf on the dunes in sandboarding, and so on.
Further, you can experience local culture and Bedouin hospitality at the campsite while trying local cuisines and enjoying dance shows. You can also spend the night here while stargazing in the clear desert sky and waking up to a beautiful sunrise view.
All in all, a safari tour makes up for a memorable time for a whole day that a first-time visitor must try. For more information regarding desert safaris and booking, please contact Desert Planet Tourism llc and get amazing discounts at early booking.
Important Tips to Remember For First-Time Visit to Dubai
We have outlined some specific activities you can try on your first visit to Dubai, but remember it is not a Western city, and one must adhere to local customs and laws while exploring. 
You Need to Dress appropriately Since Dubai is a Muslim country
The dress code in Dubai remains modest even though it is a tourist destination and one of the most modern in the Emirates. You should avoid wearing too tight clothing and cover your knees and shoulders. Many people are likely wearing short skirts and tops around Dubai as tourism increases and Westerners move into the city. However, why not show a little more respect when you travel?
Beaches allow you to wear normal bathing suits – however, topless attire is not recommended.
It's Best to Leave Romance in The Hotel
Tourists visiting Dubai with their partners and are unmarried must be aware that they might be breaking the law. Although most hotels allow this and are not bothered that much, but if you wish to be certain, you must reserve your booking with international hotel chains.  
As another point of clarification, public holding hands is acceptable; kissing and other forms of affection are deemed inappropriate in Dubai.
Getting Around Dubai is Easy and affordable With Cabs
The Dubai metro is currently developing, but you will likely still need a vehicle for transportation in this city. In Dubai, cabs are reliable and can be found at an affordable price. Taxis in Dubai are typically beige with a pink or red roof, and the official taxi company is the RTA. The pink-roofed taxis are intended for women and families, and women will always drive them.
Dubai is Best Visited During the Winter Months
Dubai's geographical location makes it an unsuitable summer destination due to its hot temperatures exceeding 40°C. Dubai is best visited between November and March, making it a popular winter destination. Dubai enjoys almost constant sunshine.
Advance Bookings are Recommended for Burj Khalifa
Dubai's tallest building, Burj Khalifa, is easily one of the most popular tourist attractions in the world. It is a once-in-a-lifetime opportunity for many people to visit the high-rises upstairs, and the lineups are lengthy. It is highly recommended that you purchase your tickets in advance. You should arrive as early in the morning as possible to avoid the busiest hours.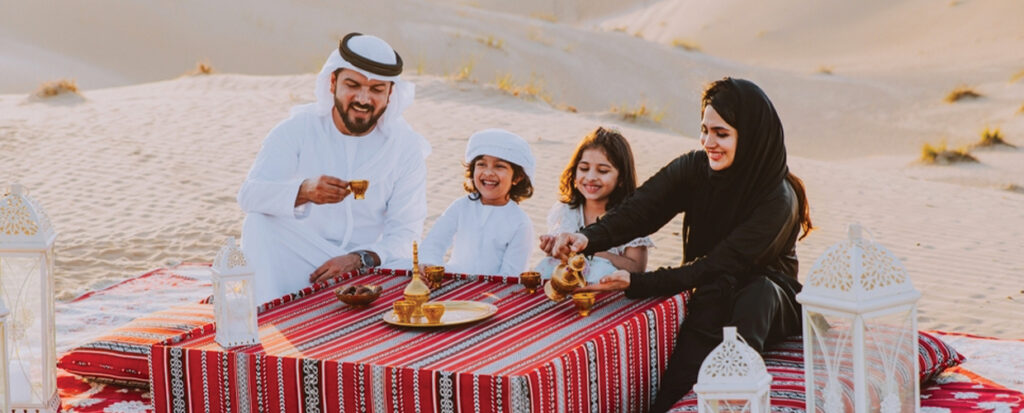 Visiting Dubai in Ramadan
Do you have the option of traveling to Dubai during Ramadan? This question has two very different answers. In general, many would advise against traveling to Dubai during Ramadan, especially if you are non-Muslim; however, due to Dubai's reliance on tourism, many restaurants and shops remain open as usual. It may be cheaper and less crowded if you can travel to Dubai during Ramadan. Although hotel room service is always available at local marts, you can purchase small snacks, water, and beverages. 
Grab a Free SIM card From the Airport 
Take advantage of the free SIM card provided at the airport when you arrive to use maps and websites while on the go. You can also buy your sim; Etisalat and Du stores are at airports and shopping malls. They can check and verify the working of the sim on your phone. 
Alcohol is not Easily Available 
The United Arab Emirates does not have access to alcohol everywhere. The only places in Dubai that will serve wine and beer are international restaurants and hotels. A fancy rooftop bar at an international hotel is a good place to have a cocktail if you need one.
Respect the Environment and Don't Throw Litter 
In Dubai, act like a civilized citizen, and don't throw garbage and litter on roads and public areas. Dustbins are available for this purpose, and signboards mention the same thing. While on a desert safari tour, avoid injuring animal species or going to prohibited areas. You might have to pay a heavy fine for breaking these laws. 
Well, here is the complete itinerary for those visiting Desert safari Dubai for the first time. Start planning your tour now and get the best deals. Remember to follow the tips for a safe tour without problems or hackles. For more tips and suggestions, we at Desert Planet Tourism llc are always available on a helpline.