You have a long weekend coming up and don't know what to do? If you are in Dubai, you are in for a treat. You have got a ton of places to visit and activities to engage in. You can find something you like with a family or a group of friends. 
Long weekend mainly consists of 3-4 holidays, so you have plenty of time to explore and engage in fun activities. Our adventure enthusiasts friends can head down to the desert for a private desert safari Dubai tour and have a peaceful time away from the city hustle and bustle. Also, if a desert adventure is not something you like, you can stay within the city and dine at the finest restaurants or visit famous tourist spots and entertainment centers. 
Here is a list of all the fun activities you can enjoy in Dubai over the long weekend. So stick with us and read till the end. 
A Lovely Brunch is a Must
Holidays without family and friends are meaningless. It's not very fun! Enjoy quality time with your family and friends at one of Dubai's top brunches. Plus, even the kids can enjoy the fun since many options are available.
Food is undoubtedly among the top priorities among all the things to do in Dubai over the long weekend. So, if you want a kid-friendly brunch in Dubai, consider going to the JW Marriott Hotel Dubai's Friday Brunch or Art of Brunch. A long weekend in Dubai is a great time to indulge in delicious food and spend time with family and friends.
Try a Yacht Cruise If You Want a Unique Experience
Looking for a luxurious getaway in Dubai for the long weekend? Make your long weekend memorable with a yacht cruise. Feel like royalty while cruising along the Dubai Skyline. Spend the day lying on the deck, swimming in the ocean, sipping your favorite drinks, and indulging in every moment. With many yacht rental companies offering amazing deals, you can celebrate the long weekends in Dubai in style! 
Dubai has no shortage of yacht cruises to choose from. Maybe you'll even be lucky enough to get an all-inclusive discount package! 
A Luxury Staycation For a Relaxing Time
A first-time vacation abroad from home is an exciting experience but not feasible for some, especially in Dubai, which is considered very expensive. However, don't worry; you can enjoy a wonderful staycation in this situation, and there are plenty of options for you to explore. 
If you seek luxurious getaways, you may consider booking an extravagant stay at a resort or boutique hotel in Dubai. Get pampered with the highest level of luxury and indulge in a lavish experience that will have you feeling like a king or queen.
Most A-list hotels in Dubai offer last-minute promotional offers to make premium staycations more affordable. A simple Google search will give you many options for staycation deals, or you can also visit the 'Time Out Dubai' site for the latest offers. Staycation deals in Dubai are a great way to relax in Dubai during a long weekend.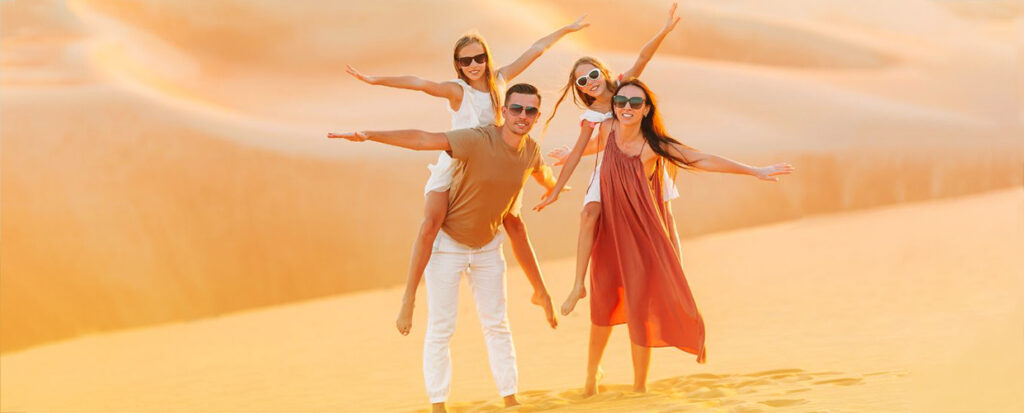 Discover The Tourist Hotspots
Splurging is not a problem in Dubai, as you have ample opportunities. In Dubai, it is best to act like a tourist over the long weekend and visit all the trendy hotspots. 
The Pointe offers a variety of dining options. An exciting luxury experience awaits you at this waterfront destination in Palm Jumeirah. Visit your favorite high-end retailers, enjoy outdoor dining, or explore the city for exciting entertainment options. You will not be disappointed by Pointe. 
Bluewaters Island offers 200 retail stores, unique dining concepts, many beaches, and exceptional entertainment. During your long weekend in Dubai, you will have numerous opportunities to eat, indulge, and have a good time.
Are you looking for family-friendly activities in Dubai? There is no better place to be than The Yard, located at Exit D89. A rustic farmhouse feel makes the place feel like it belongs in another world. It is a lakefront destination offering various dining options, including excellent food trucks. The park also offers pony rides, wishing well, colorful murals, a picnic area, and many other activities to entertain you and your children.
Have Fun at Amusement Parks
Have you visited your favorite theme park lately? On a long weekend in Dubai, this is one of the things you must do. Whether at Dubai Parks and Resorts or LEGOLAND, you will find leisure like no other. Does skiing in sub-zero temperatures at Ski Dubai appeal to you more, or does IMG World of Adventures? It doesn't matter what adventure or amusement you seek; Dubai has it all. Just find what you enjoy.
Go For an Adventure Activity
What are the best things to do in Dubai over the long weekend if you are an adventure junkie? Do not stress yourself out. There is no shortage of adventure and thrill you can do here. In fact, Dubai is heaven for such activities, and people come especially here for them. Here is what you can find here. 
There's no denying it's cliche. Nevertheless, everyone should experience the private desert safari Dubai tour at least once. Cruises through the desert are unlike anything else. Try some of that dune-bashing everyone raves about during your long weekend in Dubai if you haven't yet. 
A desert safari also allows you to experience the cultural side of Dubai and see the old Bedouin traditions, which are hard to find in the city. 
Dune Buggy and Quad Biking 
If you don't like to spend too much budget on a complete safari tour, you can book adventure activities separately. You can find plenty of good and affordable deals on guided dune buggy tours, quad biking, and dirt biking, along with expert guides who will teach you how to drive these vehicles in difficult desert terrain.  
Experiencing freefall at 120 mph is a thrilling experience! A world-class instructor will accompany you on your skydiving adventure, ensuring adrenaline will flow into your veins as soon as you leave the plane. You can do two types of skydiving in Dubai: outdoor and indoor. 
Outdoor skydiving, as we have mentioned, you dive from a height of 10,000 ft and experience an adrenaline rush while viewing the beauty of Dubai and its surroundings. Palm Dropzone at Palm Jumeirah Beach and Desert Campus at Al-Ain are the best spots for outdoor sky diving.  
Indoor skydiving happens in a simulated environment where you are tied to ropes in a wind tunnel with powerful fans attached, giving the sensation of a real skydiving. Those who have a phobia of heights can try this amazing activity. 
Have Fun At Dubai Escape Rooms
You may want to try out a few escape rooms during your long weekend in Dubai to challenge your mind and stimulate your senses. Dubai is home to many such attractions, including HintHunt and Challenge Chambers. There is no better way to spend time with your friends than this.
Try Jumble's Urban Maze as well. There is no escape room here, but it does pack a lot of challenges and activities that will keep you on your toes until the very end.
There is nothing better than a long weekend to de-stress for adults. You may want to indulge in stress-reducing activities like those we mentioned, among the many fun things you can do during a long weekend in Dubai.
Take Time Out for a Spa Session
Talking about stress-reducing activities, here is another for your long weekend. We recommend you visit the Ottoman Spa at Jumeirah Zabeel on Palm Jumeirah for a relaxing time. The place is beautifully decorated with marble, carved doors, and mosaics, where you will be welcomed with five-star hospitality and the fragrance of natural oils.
A wide range of treatments is available in the spa, including a dedicated snow room and a Thalassotherapy pool. Spa treatments use the finest quality ingredients worldwide, including Himalayan damask rose petals and natural ingredients sourced from the Arabian Peninsula.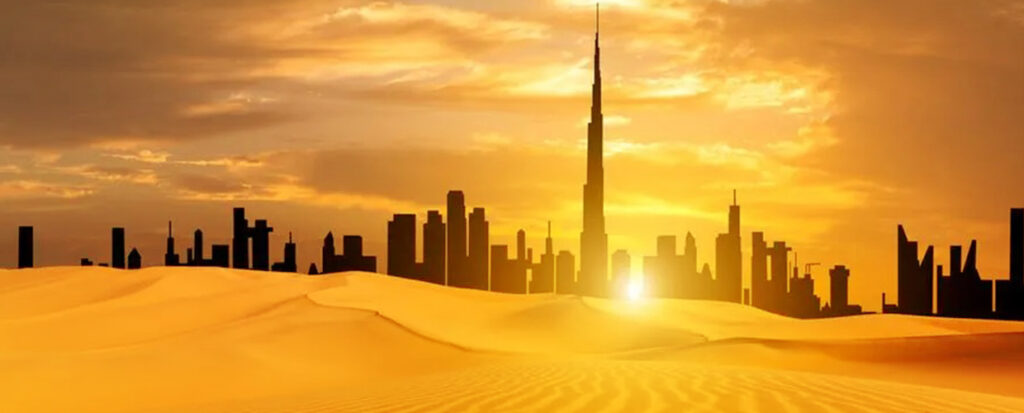 Explore a Wonderland in Dubai
There is no need to introduce the Dubai Mall. Besides being a mall, it is one of the world's most popular retail and lifestyle destinations. A popular attraction for kids is the Dubai Aquarium & Underwater Zoo, an aquarium filled with aquatic animals, and KidZania, an edutainment center.
It is a place where you can easily spend a whole day exploring an ice rink of Olympic size, the virtual reality park, and even the thrills of go-karting. Then, enjoy the views of the Dubai Fountain and the Burj Khalifa at one of the many restaurants.
Be a Part of the Unforgettable Imagine Show
The IMAGINE exhibition at Dubai Festival City will leave you speechless. If you have a long weekend in Dubai, this could be an enjoyable activity to add to your itinerary.
Dubai has several free attractions, but this magnificent display of fountains, lights, lasers, and visuals is among the best. Observers are surprised now and then by this display, which takes place every day. During their recent Game of Thrones spectacle, they won over the audience quickly.
If you want a budget-friendly way of spending a long weekend in Dubai, then the IMAGINE exhibition is the perfect choice.
Don't Miss Out on Mother Nature
This is not a desert activity if you are thinking about it, but if you are free on the weekend, you can visit the Al Khor Wildlife Sanctuary. Those who are animal lovers and wildlife photographers will have a hard time leaving this place. The sanctuary has a natural lagoon, mangroves, and salt flats, contributing to a complete ecosystem.
Ras Al Khor is one of the best unconventional things to do in Dubai during a long weekend. The wetlands in Dubai have over 500 species of plants and animals and 60 types of birds. You may visit the sanctuary from Saturday to Thursday from 9:00 a.m. until 4:00 p.m. There is no admission fee to see the beautiful tropical birds.
Other Things to Do in Dubai During Long Weekend
During a long weekend in Dubai, there are practically unlimited activities. Take a romantic meal at one of Dubai's most luxurious restaurants if the dhow cruise is not for you. Those who enjoy movies will find Dubai's outdoor cinemas a great entertainment source. If you want to try something new for a while now, try pottery or photography, for example.
It is all about experiencing or trying something new during a long weekend in Dubai. Among the activities we have mentioned which are most appealing to you, try those out.
Our adventure enthusiast friends who want to try a Desert safari Dubai tour for a long weekend can contact Desert Planet Planet Tourism llc services you might get a discount or special offer for early booking on a weekend. Further, if you need help deciding how to explore Dubai on budget and what things you must try, our staff can guide you in that regard, too.