As a visitor, you can find countless things to do in Dubai. You can go visit the tallest building, Burj Khalifa, you can go on a shopping spree at Dubai Mall, or try skydiving at a height of 13,000 ft at Palm Jumeriah. Hence, you can find everything according to your skill level and interests. 
However, what should you do for a group activity? Something that all family members can enjoy and have fun at regardless of age or skill level they possess? Well, we have the perfect thing for you: go and try a private desert safari Dubai tour. Taking place in desert settings, this tour offers multiple experiences, starting from adventures to cultural and delicious cuisines. What is the best about it? Everyone can participate and enjoy it; it's an ideal group adventure activity. Let us discuss in detail why a desert safari Dubai should be your next travel destination and how to prepare for it, along with more information about it.
What is a Desert Safari Adventure in Dubai?
A desert safari is a type of recreational activity that allows them to explore the vast and beautiful desert regions. As the largest deserts on the planet surround Dubai so it makes perfect sense to go and try a desert safari adventure there; plus, today, numerous tour operators offer safari tours at reasonable prices to visitors. 
Here, you can rent a quad bike for exploration on fast-paced riders; adventure enthusiasts people will love this. Also, you try out unique cultural experiences in a Bedouin tent. This does not end here. You can go on camel rides and sandboarding and witness the most beautiful sunset in the evening that must be captured on camera. 
Need more information on the desert safari tour? Please call the Desert Planet Tourism Helpline mentioned below.
Why Should a Desert Safari Dubai be Your Next Travel Destination?
Having discussed what a desert safari is all about, let's learn in detail why it should be on your bucket list for your next vacation. 
An Adventure Admist the Dunes
A desert safari tour is the perfect activity for adventure seekers. Here, you get to drive dune buggies, quad bikes, and dirt bikes over challenging terrain at high speeds, which is surely not an easy task. 
Besides, you get to see the desert beauty consisting of shifting dunes, animals, and plants found there. All of this makes up for a memorable experience that everyone remembers for a long time.
Thus, a desert safari is a must-do activity you need to do with your friends who love adventures and like to try daring things. It will be a hell of fun, we guarantee. 
Get to choose your own adventure 
There are many activities available on a desert safari adventure that are sure to make up for an unforgettable experience. As explained, you can try quad biking, dune buggy riding, and dirt biking while you are there. Besides those, a dune-bashing ride in a 4×4 Landcruiser along with an experienced driver offers similar thrills and excitement. The adventure doesn't end here you can; in the end, there is sandboarding, which involves sliding up and down on a sand slope while maintaining your balance. 
These are all adrenaline-inducing activities; those who are not interested in such activities or have medical complications can try the more relaxing camel and horseback riding, where a guide holds the animal as you take a stroll in the sands. 
With all these plethora of activities to choose from, you can expect the safari tour to be a wonderful experience. 
Rich Bedouin Cultural Experience  
Enough talk about the adventures; let's head down to the camp for a Bedouin hospitality experience. During your visit, you will be able to experience Arabian culture as it was hundreds of years ago – dramatic, colorful, and mesmerizing. Take a look at belly dancers performing with their snake-like hips, talented young women performing Tanoura, and flame-breathing locals showing off their expertise with fire. 
Additionally, henna tattoos, which are made with reddish-brown ink, are available there. Create your design or select one from a set of designs, then enjoy the art form for a few days before it eventually fades.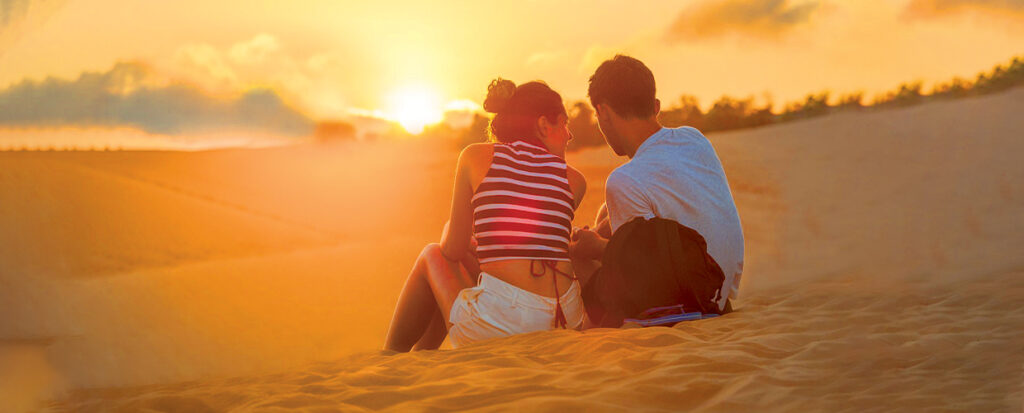 Stunning Sunrise and Sunset Views 
Sunset and sunrise views in the desert are among the most beautiful views that will remain etched in your memory forever. The changing colors of the sand, as it transforms from golden hue to vivid, is a sight to behold. Go on top of a tall dune to witness the scenery and bring a camera to capture it; this is something you cannot find in the city. 
For sunrise and sunset views, you must book an Evening or Overnight desert safari 
Witness the Rare Wildlife of the Arabian Desert 
You will have the opportunity to see the UAE's national bird, the falcon, while on your desert safari. In the UAE, falconry is a traditional sport that involves the training of falcons. The Emirati culture considers it to be a high art form. 
Also, there are many other species you can find here, including Arabian Oryx, Gazelle, and desert foxes. A local guide can help learn in more depth about how these animals survive in the harsh desert climate and what they eat. 
Test your photography skills and capture these animals in their natural habitat, but remember, don't get too close or injure anyone. You may have to pay a hefty fine for such activity. 
Escape the Hectic City Life 
Finally, the last and major reason for trying out the private desert safari Dubai tour. You get to escape the hectic city life for once and spend quality time with your friends and family members. 
Compared to a city full of noise and crowds, a desert offers a peaceful setting that helps to relax your mind and take your worries away. 
While you might not be interested in adventures like dune bashing and quad biking and looking for peace, you can stay at the campsite or hop on a camel for a relaxing experience. You can explore the surroundings on your feet as well; just remember not to wander off too far away and wear flip-flops or sandals. 
Preparing for The Desert Safari Tour
Have you made up your mind to try the desert safari adventure on your next Dubai visit? If you do, then remember the following set of tips to enjoy the tour to the fullest. 
Clothing Choices
For a desert safari tour, we recommend wearing light and loose-fitted clothes to survive in the hot desert climate. Clothes made of cotton and linen are best. Wear long-sleeved shirts to protect your skin from harmful sun rays. Women should avoid wearing short skirts or too revealing clothes, as these are allowed in Dubai law. 
Footwear
For your feet, we recommend wearing closed-toe shoes or long boots for your adventure rides, as they prevent the sand and flying dust from getting on your feet, which might later cause discomfort and irritation. As for the campsite, you can wear sandals or flip-flops since you will be seated or go for short walks nearby. 
Sun Protection
The desert sun is really unforgiving, and if you don't take necessary precautions, it can be life-threatening. The best sun protection to use is a sunscreen lotion with a high SPF factor. Apply it throughout the safari tour, especially when you are driving a vehicle during the daytime.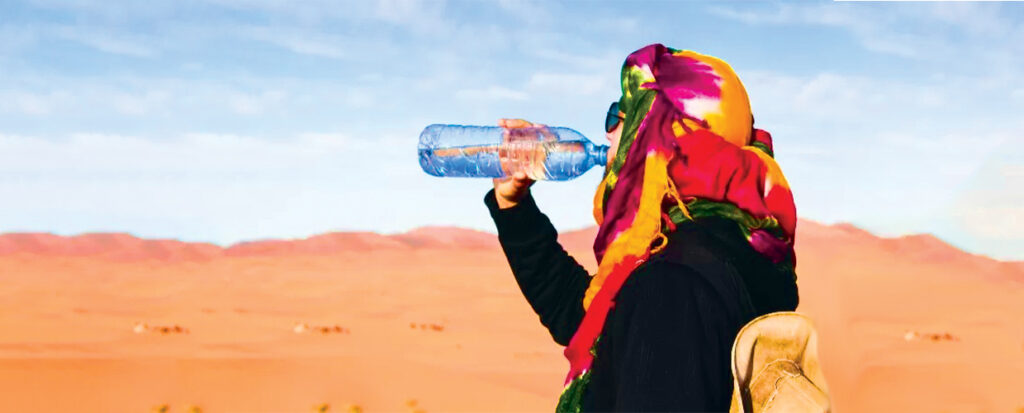 Bring a Water Bottle
Talking about sun protection, here is another tip to consider: drink plenty of water, as excessive desert heat can lead to dehydration. Also, rides like dune bashing and quad biking are physically exhausting, drain your body, and cause sweating. Bring a water bottle along the tour and keep filling it; further, the campsite offers many refreshments that you can try later on to keep your hydration levels in check. 
Medications
If you have been prescribed certain medications by a doctor, then bring them along on the tour. It is unlikely that you will find any medical stores in the middle of the desert. Further, inform the tour operator about your health complications so they can make the necessary arrangements for you and avoid participating in certain activities if your doctor has asked you to. 
Bring a Camera and a Tripod
A DSLR camera is a must to bring for a desert safari ride. The desert scenery and sunset/sunrise views are witnessed once in a lifetime, so you can never miss the opportunity and not capture them. 
Bring extra batteries for your camera, and if you don't have a DSLR, then a mobile camera works just fine. 
Cash and Identification
Carry some hard cash for any additional purchases during the tour. Keep your identification, such as a passport or driver's license, in a secure and easily accessible place. Some tour operators may need them for identification purposes and finalizing your booking.
Well, we hope you have made up your mind to try the desert safari tour on your next visit to Dubai after reading all the reasons mentioned. For any more queries and advance booking of the tour, please contact Desert Planet Tourism llc helpline. Our staff is available 24/7 for your guidance.