As we all know, Dubai's modern infrastructure, including tall skyscrapers, shopping malls, and 7-star hotels, makes it possible to be recognized as a global Alpha city and a top tourist destination.
Do you know Dubai has a different side that completely contrasts with its city? Yes, the large desert surrounding it offers a peaceful and serene environment compared to the city's noise and chaos. There is no modern infrastructure there, just natural beauty stretching for miles, where you can enjoy a private desert safari Dubai tour, the region's cultural riches, and adventure sports. These activities are not available in the city.
Today, we will learn how the two sides of Dubai differentiate and which offers more value for money. So stick with us until the end and see which appeals to your taste.
Let's start by discussing city life and the luxuries you can get there. As we know, Dubai is a shining example of human innovation, with world-class infrastructure making it a comfortable place to live. It helps in attracting millions of tourists worldwide every year. Here is what you can find in the city:
Architecture of Iconic Significance
Dubai has many works rarely found elsewhere. For example, there is Palm Jumeirah Beach, a man-made island, Burj ul Arab, a seaside 7-star hotel, Atlantis, The Palm, and how can we forget the world's tallest building, Burj Khalifa, standing at 838 meters looming over the skyline.
Dubai is the most multicultural city in the world and home to numerous communities and nationalities, not just Arabs. More than 200 different nationalities live here and speak 300 languages. Such a huge number of different cultural people live here in peace and harmony.
Dubai is the financial hub in the Gulf region. Since its imports mainly consist of oil, its strategic location is ideal for transporting oil to Europe, Asia, and Africa.
Dubai is a paradise for shoppers, and there is nothing you can't find here.
The most iconic of them is 'Dubai Mall,' one is the largest shopping malls in the world. With more than 1200 retail outlets, you can't find anything there. Further, there are 200 international dining outlets and many family entertainment attractions.
Annually, there is a 'Dubai Shopping Festival' which attracts shoppers worldwide with numerous discounts from 25% up to 90%.
Finally, Dubai is a family-friendly destination with numerous attractions for children and families. Dubai Aquarium & Underwater Zoo, KidZania, Legoland Dubai, and Dubai Miracle Garden are a few famous attractions.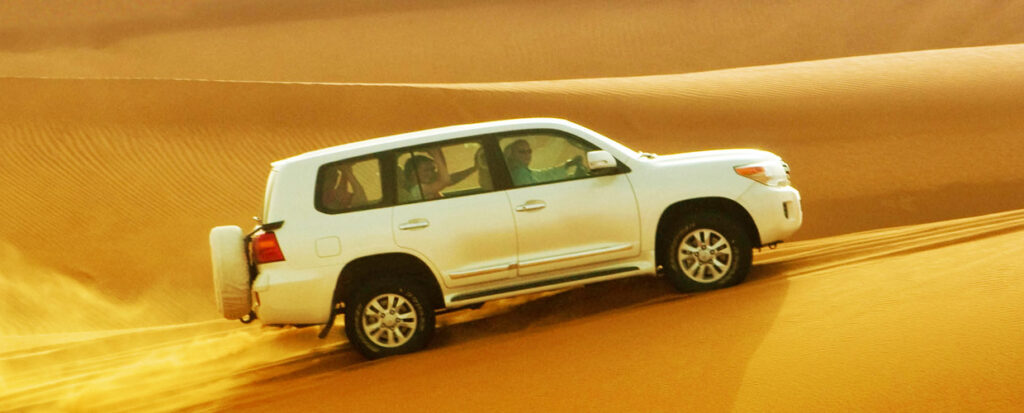 Dubai Desert Desert Safari
Desert safari adventure is completely different than what the city offers. A private desert safari Dubai tour is the perfect way to experience the desert lifestyle. Let's discuss what you can see here.
The desert is all about nature there are no man-made structures to see here. It is just a barren land stretching miles long and filled with peace. Those who want to escape city life and forget about their hectic routine for a while can book a desert safari tour and spend a whole day in the desert while having peace of mind.
Desert safari tours are conducted in the morning, evening, and overnight, for more information on these, we recommend contacting Desert Planet Tourism LLC services.
The Dubai desert is a perfect playground for sporting activities like dune bashing, buggy riding, quad biking, sand boarding, camel riding, and more.
Suppose you want to try something different for entertainment other than watching movies, hanging out at the shopping, or anything that doesn't involve large crowd gatherings. In that case, we recommend booking a desert safari tour. Plus, it's family-friendly, and your children will also enjoy it.
if you are a food lover, then you won't be disappointed at what the desert safari offers. At the Bedouin campsite, you can try local cuisine consisting of BBQ foods, sheesha smoking, and drinking coffee. Further, depending on your choice, you can choose vegetarian and non-vegetarian foods.
A private desert safari tour also allows you to observe local entertainment shows, which are very different than what we see in the city. These include belly dancing, henna painting on your body, and fire shows.
Well, the daytime in the desert is filled with entertainment and sports activities the nighttime is ideal for stargazing. Since the desert has no pollution and light, it offers a crystal-clear sky view. You can learn from a local guide how people in the past used to travel by observing stars in the sky and what it means.
Contrasting Desert Safari and City Life
Now you understand what the desert safari and city offer to the tourists; they are both completely in contrast with one another. City offers a more modern life thanks to its innovation and technology, while desert life is all about spending time amidst natural beauty while enjoying local traditions. Here are notable differences between the both.
Dubai's city landscape is dominated by tall buildings, highways filled with cars and motorcycles, and a Metro system for transportation. Hence, every essential life commodity is available. 
While the desert is filled with dunes and golden sands you can see for miles; there are no buildings or modern facilities here.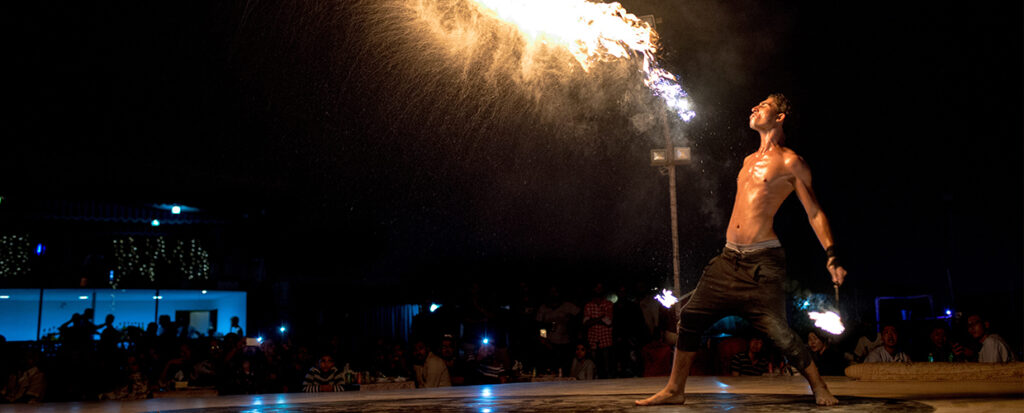 Dubai City offers several entertainment activities you can try with your family and group. This includes purchasing goods in shopping malls, dining at restaurants, and exploring modern attractions like the Dubai Aquarium, Burj Khalifa, Palm Jumeirah Beach, etc. Hence, if you want indoor entertainment, then the city is the best.
While the desert safari is more about outdoor activities compared to indoor activities you enjoy in the city. These activities are dune bashing, quad biking, camel riding and sand boarding.
As we discussed, Dubai houses 200 communities with different ethnicity and backgrounds and you can see diverse cultural range everywhere on the streets and roads.
On the other hand, deserts are inhabited by Bedouins and locals mostly whose forefathers lived here. You can experience the Arab culture and traditions if you are on a desert safari tour.
Which One is Ideal For You?
City and desert safari have pros and cons, and for a vacation, it all depends on your preference. If you want to visit shopping malls and cinemas and stay at hotels, then the city side is best. Alternatively, choose a desert safari tour if you want to try something new that is thrilling and exciting.
Here is everything you need to know about how Desert Safari Dubai entertainment differs from the city. We recommend trying both for your vacations and deciding which one you like the most. If you want to book a private safari tour, contact our representatives at Desert Planet Tourism LLC and book the tour on your desired day and time.