A desert safari in Dubai offers a lifetime of adventure one can enjoy countless activities on a single if they wish to. A complete private desert safari Dubai itinerary starts with a thrilling dune bashing ride in the early morning, doing a sandboarding session, and finally taking some rest in the desert camp and having some refreshments to energize your body. 
However, suppose you have booked an evening or overnight safari. In that case, you can also get a chance to enjoy a falconry display, sunset photography, and BBQ dinner, along with several cultural shows and dancing. All these activities make up for a memorable safari tour. 
Interested in finding more details about the desert safari Dubai tour? Well, let's dive into it. 
What is the Desert Safari tour in Dubai all about?
We all know a vast desert surrounds Dubai, and this area provides the perfect gateway for outdoor activities. Those interested in adventure, wanting to breathe fresh air, and leaving all the city noise behind can go on a desert safari excursion. 
To book a safari tour, you need the services of a rental company, and why not go for Desert Planet Tourism services? Our services cover many activities everyone can enjoy, including families and children. What sort of activities, you might wonder? Well, let's look at our complete desert safari itinerary.  
Complete Desert Safari Itinerary 
Look at the following complete desert safari itinerary starting in the morning and concluding at night. 
Morning
:
8:00 AM – Departure from Dubai City
Your desert safari trip begins with a pick-up from your hotel or a designated meeting point in Dubai, or you can arrive at the location by yourself, depending on your budget. Private pickups are done in luxury vehicles by rental companies and can be costly. 
Ensure you arrive on time, as the desert safari usually departs early in the morning to make the most of the cooler hours.
9:00 AM – Arrive in the Desert
After an approximately one-hour drive, you'll arrive at the desert location, where the safari will happen. Upon arriving, you will be given a brief set of information by the staff member of the rental company, and you must follow that thoroughly. 
9:15 AM – Dune Bashing
Start your adventure with an adrenaline-pumping dune-bashing experience. These expeditions are one of the best ways to gain a true understanding of the Arabian desert. The journey involves an hour-long jeep ride over massive dunes at varying speeds. They are done in comfortable luxury vehicles, mainly Landcruiser or similar models. 
10:15 AM – Sandboarding
Sandboarding down the dunes is a fun and exciting way to embrace your inner adventurer. Aside from motorized sand exploration, sandboarding is also available. It is similar to snowboarding in the desert, except it is just as exciting and fun! Enjoy a new activity that offers the thrills of surfing, skating, and snowboarding amidst the captivating desert landscape.
10:45 AM- Quad biking 
Besides dune bashing and sandboarding, you can try your hand at Quad Biking if you are up for the challenge. Taking a four-wheeled motorcycle through the vast open canyons in the desert, along the uneven paths and high dunes, will give you an unforgettable experience. 
If you book a safari tour with Desert Planet Tourism, our professional guides will assist you in driving quad bikes along with safety hazards you must follow. 
This is the ultimate adventure for thrill-seekers since quad bikes are the most challenging vehicles to handle and drive in desert terrain due to their strong engine and mechanics. So after dune bashing book quad biking session to have a memorable experince. 
11:30 AM – Camel Riding
Take a ride on a camel to experience the traditional desert lifestyle. Camels are popular in the region and served as the only means of transportation and food for the ancient Emiratis throughout the pre-oil era.
So don't forget to grab this unique opportunity to embark on a memorable journey in Dubai. Traverse the high dunes and difficult terrains easily and breathe the fresh desert air as you peacefully go on your route. 
12:00 AM- Hot Air Ballon Ride
The experience of riding a luxury hot air balloon over the Arabian Desert is one of a lifetime. At different times of the day, the golden dunes of the desert transform into different colors against the backdrop of the Hajar Mountains in Dubai. Capture this spectacular view on your camera.  
A flight of 4500 ft above the desert gives you a 360-degree view of Dubai's marvelous city from above. The best pictures will certainly be taken during this journey with such splendor. While the hot air balloon ride is an adventure activity, unlike dune bashing and quad biking, it is also peaceful. So those who are not much into heart-pounding activities can always go on ait balloon rides..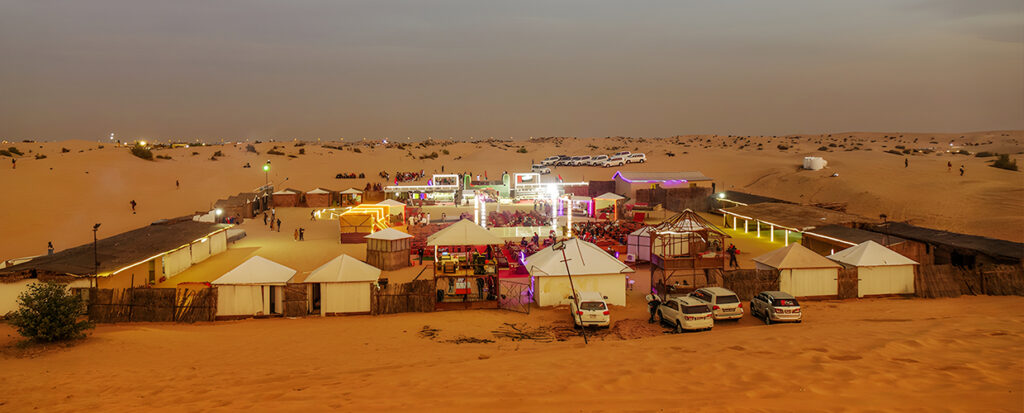 12:30 PM – Camp Break 
After such an adventurous morning, it's time for some rest to try on culinary delights like coffee and dates at the desert camp. This helps to energize your body and prepare for the next set of adventures. 
1:30 PM – Cultural Activities
Take part in cultural activities, spend quality time with locals, and know their customs. Some of the famous activities include henna painting, shisha smoking, and trying on traditional Arabic clothing for memorable photos.
2:30 PM – Falconry Display
You can also witness the falconry display as a part of the cultural activity. See how the skilled trainers show the hunting powers of these birds. Learn about Falcon's history and its significance in Arab culture. 
Don't forget to click photographs with falcons on your shoulder.  
3:30 PM – Relaxation Time and Walk on the Sand
After experiencing local cultural activities, you can take some time for a casual walk in the desert and see the desert wildlife. If you have booked a morning desert safari package, your tour will conclude here, and you can travel back to your hotel, or if you have booked a pickup and drop off option, you will be dropped off later. 
Evening Time 
4:30 PM- Sunset Photography 
The spectacular sunset is one of the things you should not miss during your evening desert safari. A dreamy appearance is created on the sand as the sun disappears behind the dunes. 
Seeing this sight is a mesmerizing experience that will remain in your memory forever. You are welcome to bring your camera to capture this beautiful scenery and your photographs. 
5:30 PM- Evening Entertinament 
There may be adventures in the desert during the day, but there are also numerous entertainment options at night, making the desert an ideal destination for tourists in Dubai. An eventful evening in the deserts of Dubai will make your desert safari Dubai experience even more memorable with activities like fire eating, dancing on stilts, swirling, and belly dancing.
Suppose you have booked an evening safari tour. In that case, you can enjoy cultural activities in the evening rather than the morning, such as henna painting, shisha smoking, donning Arabic dresses, and much more. 
7:00- BBQ Dinner 
It is impossible to beat the pleasure of tasting authentic Arabic cuisine in an Arabic tent. After an exhausting set of adventures in the afternoon, it's time to gain some energy by having a buffet dinner. You should try several popular Arabic foods, including kebabs, khubz, kofta, and mansaf. 
Also, try sheesh smoking or Hookah if possible; it's a local delicacy. 
Overnight Time 
 8:00 PM – Stargazing
The desert night sky is a perfect setting for stargazing after dinner. During the day, the desert glows with sunlight, while at night, it is crystal clear, where you can observe millions of stars above your head. During a private astronomy tour, you will enjoy stargazing and learn how people used stars as navigation and storytelling tools in the ancient world. After an intense day of desert activities, this is a wonderful experience to relax.
10:00 PM- Desert sleepover 
An overnight desert safari may be the best choice for those who wish to spend more time in the desert. Overnight desert safaris are nights spent in the desert, in tents, or sitting around a bonfire under the stars. 
You will be provided with an unlimited supply of Arabic tea and coffee at night if you prefer to remain awake to enjoy the desert's beauty and silence. In addition, you can witness a spectacular sunrise in the desert.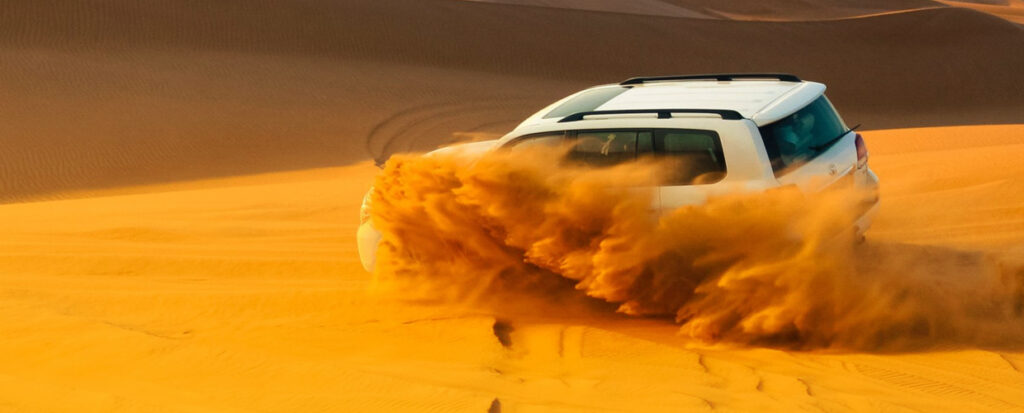 Types of Desert Safari Tours to Choose From
The above itinerary is of a complete desert safari from morning to evening; however, if you don't have enough time to enjoy the whole and have priorities elsewhere, you can book a safari from a specified time of the day and have your fun. The activities in the safari will differ based on your choices. Following are the most popular desert safaris to choose from;
Morning Desert Safari
Generally, a desert safari in the morning normally commences early, making it an ideal option for those who would prefer a more peaceful and cooler experience. Participants will be treated to a delicious breakfast at the desert camp after participating in fun activities such as sandboarding, camel riding, and dune bashing.
Remember, the BBQ dining, sunset photography, and cultural shows and dances are not part of the morning safari and are included in the evening and overnight packages. 
Evening Desert Safari
An evening desert safari in Dubai is the perfect desert adventure to experience as the sun sets over the desert landscape. In the afternoon, guests can do dune bashing, ride camels, sandboarding, get henna tattooed, and do traditional Arabic entertainment, including belly dancing and Tanoura. A delicious barbecue dinner is served at the desert camp at the end of the day.
The evening safari package includes all the activities you can expect in the morning safari. 
Overnight Desert Safari
The overnight desert safari provides a memorable experience, including the night beneath the starry desert sky. In addition to all the activities that can be expected during an evening desert safari, this package offers additional experiences such as a stargazing session, overnight accommodation in a traditional Bedouin tent, as well as a full breakfast the following morning.
Private Desert Safari
Alternatively, you can opt for a private desert safari if you wish to have a more personalized experience. Besides participating in all the activities and facilities typically associated with a desert safari, your group will also have its vehicle and guide.
Luxury Desert Safari
A luxury desert safari offers guests a wide range of amenities and services tailored to guests who prefer a more luxurious experience. Additional activities may be offered as part of these tours, including VIP transportation, gourmet dining alternatives, and special entertainment events, such as falconry shows or belly dancing.
Desert Planet Tourism is ready to serve you and make your private desert safari Dubai tour memorable. Do call us for any information you need, and for advance booking, contact us on our Whatsapp number mentioned and let us know the desert safari type you wish to book for your group.  
Here is the complete itinerary of a typical desert safari Dubai tour. For a more personalized experience, you can always choose the activities you like and don't have to book a complete safari from morning to night.