You may know Dubai for its skyscrapers, beaches, and shopping malls, and that is what we mostly see on the news. However, most of us are unaware of the entire other side of the city- its vast desert and what it offers visitors. If you are ever in Dubai for vacation or plan on going to one, we recommend booking a private desert safari Dubai tour. We guarantee you will have the best time of your life.
You can do numerous activities on a desert safari trip that give you a refreshing experience and help you forget your worries. For example, those interested in adventure sports can participate in dune bashing, quad biking, and dirt biking experiences. Those looking for a sense of peace and not any adventure can go on camel riding or hot air balloon riding and enjoy entertainment shows at the campsite while eating a BBQ buffet. 
Let's dive into more detail about Desert Safari Dubai and why it is so popular. 
Here are Five Reasons Why You Should Book a Private Desert Safari Dubai Tour
Let's look at 5 reasons why Dubai Desert Safari should be on your bucket list of adventures. 
Desert Landscapes in Dubai are Unlike Anything You Have Ever Seen Before
You will find Dubai's desert landscape a wonderful canvas to express your creativity, much like a blank canvas. As a result of its magnificent sunsets and undulating dunes, it has become a favorite destination for photography enthusiasts, who create amazing photographs often used as desktop screensavers. During the summer, it may seem like you are on a different planet when the sun's rays strike the sand, creating a reddish hue similar to Mars' surface. When clouds open up to reveal a star-filled sky at night, the desert becomes even more stunning. 
Pro tip: Bring a tripod to capture Dubai's magnificent night sky with a steady, long exposure. There is even a possibility of catching a shooting star.
You Can Choose the Adventure That Suits You Best 
A desert vacation is a once-in-a-lifetime experience with many activities to enjoy. Take a ride in a 4×4 car and indulge in dune bashing, an adrenaline-pumping balance test in which cars navigate steep dunes. As a follow-up, sandboarding allows you to test your sense of balance while sliding down a steep sand slope. 
Your holiday video will be hilarious if you tumble or roll. Guests may choose to further participate in activities such as horseback riding, quad biking, or camel riding as an option. 
Those who enjoy dune bashing will enjoy quad biking. Get on a four-wheeler bike and race across the desert like a pro. More relaxed activities, such as horseback and camel riding, require a guide to keep the animal at bay for your safety. The guides will surely take some cool photographs, regardless of your choice. 
Taste The Rich and Ancient Culture and Art of the Arabian Peninsula   
Once the sun sets, you will be taken to a Bedouin tent to enjoy dinner and entertainment performances. Here, you will find the cultural traditions of Arabia as they were centuries ago – theatrical, colorful, and fascinating. A belly dancer with snake-like hips will perform on the stage, as will talented young women spinning their skirts during a folkloric dance known as Tanoura and fire-breathing locals displaying their mastery of this element. 
While there, you may also get a henna tattoo, a temporary tattoo made from reddish-brown ink. A design from a collection could be selected, or you could collaborate with the artist to create your own and enjoy the art form for a few days until it gradually fades.
Enjoy Unlimited BBQ Buffet Dinners 
Among the many ingredients that make up Arabian cuisine are spices and meat, which are abundant at desert safari dinner buffets. Several charcoal grills can be found at the campsite, preparing grilled meats to delight your palate. 
Plates of fresh fruit are ready to eat while watching the cultural performance. There is nothing better after a day of adventure, fun, and adventure under the sun than a feast of Arabian delicacies. After dinner, enjoy a cup of Arabian coffee, dessert, or shisha to relieve your bloated stomach.
An Opportunity to View Rare Wildlife Once in a Lifetime 
Enjoy a desert safari while meeting one of the UAE's national birds, the falcon! In the UAE, falconry is a traditional sport that involves the training of falcons. Since last decade, UNESCO has listed the intangible cultural heritage of humanity, considered a form of high art in Emirati culture. In the past, falcons were originally used for hunting; however, they are now used for sports and entertainment purposes. It is common for falconers to bring their birds on desert safaris to take selfies and demonstrate their skills, so do not miss this opportunity. 
Throughout the desert, one can also observe other species of local fauna. Look out for Arabian oryx, meerkats that pop up from patches of land, owls, and various bird species. 
Since the desert is a conservation area, it is advisable to stay as far away from its animals as possible.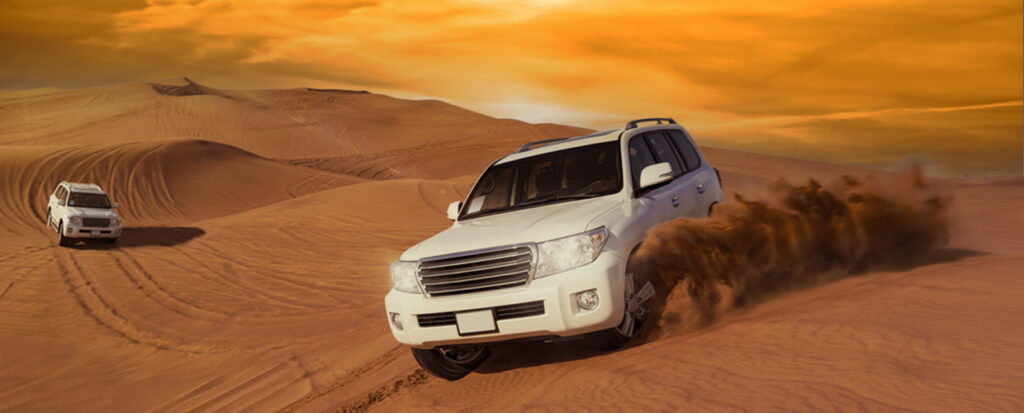 Types of Desert Safari Tours You Can Book in Dubai
We hope you have decided to try the private desert safari Dubai tour after reading the above 5 reasons. Well, now let's read about some of the most popular safari tours you can book per your requirements. 
Taking part in an evening desert safari is a must-do activity for those who wish to create lifelong memories. Enjoy an evening desert safari for fun and excitement if you plan to visit Dubai. You must rest as soon as you arrive at your first destination near a camel farm in the afternoon. 
If you have booked a safari pickup service, your first activity will be dune bashing as soon as you arrive at the desert after some initial instructions about the ride. Afterward, take part in camel rides and sandboarding and experience sunsets in the desert's ocean. Get your hands and feet painted with a beautiful henna design. Enjoy delicious barbecue and shisha while feeling in the mood for a celebration. At the campsite, you will have the opportunity to observe a belly dancer performing Arabic music.
People often do not have time to schedule an evening safari due to their busy schedules. Thus, they can take an interesting adventure tour by taking a morning desert safari. 
This morning desert safari consists of approximately 20 minutes of thrilling dune bashing and an exciting camping excursion where you can ride quad bikes, camel rides, and sand skiing. The morning safari varies according to the tour package you select. The average package journey time offered by some companies is approximately two hours. Those who are not interested in dinner and camping may find this option to be the best option.
At Desert Planet Tourism, we offer 4-5 hours of morning desert safari packages. Call us now for booking or any queries you have in mind. 
Those who like adventure in the dark or enjoy nighttime entertainment can book an overnight desert safari tour. Take a nighttime tour of the Arabian Desert when everyone sleeps in camp. Bring your camera to photograph the sunrise in Dubai's sandy desert. Sand skiing and dune bashing are popular activities on this safari.  Also, visitors can enjoy henna designs, traditional costumes, cultural dances, BBQ dinners, and camel rides during this overnight desert safari.
As you relax at the end of dinner, you can hear the wind striking the sand against the calm night sky. If you enjoy dancing, take a moment to watch a belly dance performance. Pack sleeping bags and blankets if you decide to spend the night.
Desert Safari Experience That You Can Enjoy
The following are some of the best desert safari experiences in Dubai. Some are available on all safari tours, while others are for overnight safari. Think about what you want to enjoy and book accordingly. 
The best way to experience the Arabian desert's raw beauty is by participating in a dune bashing session. A 30-minute jeep ride through the desert runs over massive dunes at varying speeds. 
An adrenaline-pumping dune-bashing session awaits you away from the hustle and bustle of Dubai's city life. Imagine you would like a more wholesome Dubai tour package incorporating desert experiences. Alternatively, you may wish to combine the hospitality of the Arabian Peninsula with desert camps and delicious barbecue dinners to gain a deeper understanding of Bedouin culture.
Nothing is more adventurous than a bumpy camel ride in Dubai's desert. An excursion on the back of a camel takes you through the lonesome desert of Dubai and into the world of desert wildlife. An evening camel ride is considered one of the best Dubai safari experiences because the ride takes you to the massive dunes and provides a breathtaking view of the sunset and a falcon show that happens nearby.
Tourists can enjoy a picturesque sunset and sand background, providing several photography opportunities. Visitors can enjoy a delicious barbecue, shisha, and Tanura dance performance at night in the desert after a fun-filled day.
In Dubai, you should not miss the opportunity to try sandboarding. This not only relieves boredom but also gives you energy and enthusiasm. You'll have a plethora of choices once you land in Dubai, but sandboarding is one of the top activities you should not miss during a desert expedition. Sliding through golden dunes in Dubai's vast desert area is a refreshing experience. Snowboarding involves strapping the feet to the board and sliding down the dunes, enjoying the peaceful surroundings.
Sandboarding is best done in the evening or early in the morning. Wear light, comfortable clothing when engaging in adventurous activities is also recommended.
Starry Nights in the Middle of Desert 
Regarding unique nighttime experiences, Desert Safari in Dubai cannot be beaten in any way. The Arabian Desert night sky is a sight to behold once the sun sets. Enjoy a complimentary Arabian coffee and treats at your desert camps while stargazing. 
You can relax from the daily stress of your adventure under the canopy of stars in the desert. Once the day's heat has subsided, it is also home to several animal species that you can see when the sun begins to set. Also, it is a perfect romantic gateway with your partner if you are on your honeymoon. Enjoy your spouse's company in a peaceful and serene desert environment as you sit under the stars covered in a blanket and talk about sweet things. 
Entertainment-filled nights 
The desert can be an adventure-filled place during the day, but it is a hotbed of entertainment at night, making it a top destination in Dubai. Your overnight desert safari Dubai experience would not be complete without an entertainment program including fire-eating, stilt-twirling, and belly-dancing.
With exotic barbecue dinners and mouth-watering Mid-Eastern delicacies, the deluxe tents offer a taste of authentic desert cultures. Afterward, a beautiful belly dance performance by highly skilled artists showcases the beauty of the local culture. These nighttime performances are crafted in such a way as to provide tourists with a unique experience and showcase traditional values. 
At Desert Planet Tourism, you will also have the option to choose from vegetarian and non-vegetarian menus. So let us know beforehand what you want.
Outside Dubai's modern city and busy life lies an opposite world filled with a peaceful aura. A desert safari Dubai tour not only helps you escape the noisy urban life of Dubai but also allows you to get a taste of cultural experiences and have a memorable time to relax your mind. 
Desert safari shows us that Dubai has much to offer than just glittering skylines. Book your desert safari tour today with Desert Planet Tourism and have a once-in-a-lifetime experience.