You might know Dubai for its tall skyscrapers, 7-star hotels, and luxurious shopping malls, but that's not all it offers. Beyond the glamorous city life lies a vast and uncharted desert home to many adventurous and cultural activities; we are talking about Private desert safari Dubai.  
This magical journey is one of the main tourist attractions of the city. Whether you are an avid thrill seeker or looking to explore the cultural specialties of the region, the desert safari Dubai trip provides everything. Starting with 4×4 pickup from a designated location in the city, beginning the safari with a dune bashing session, and concluding it with star-studded night entertainment in Bedouin camp will surely leave you mesmerized and wanting more. 
Let's learn more about this magical journey and what it offers. 
What is Desert Safari Dubai?
The Desert Safari Dubai offers a thrilling outdoor experience that is both exciting and fun at an economical price. Desert safari trips offer several great activities that will send goosebumps down your spine, including quad bikes, dune buggies, and dirt bikes. For those who do not wish to participate in an adventure, you may enjoy a lavish dinner, live entertainment, and a sleepover in a Bedouin camp. Moreover, the camp dinner offers vegetarian and non-vegetarian options. 
Further, you can book different desert safari tours, each with a different experience. 
Those who have limited time can benefit from the morning safari. In a 4×4 Landcruiser, you will be picked up from a designated point in the city and transported to the desert, where you can participate in thrilling dune bashing and sandboarding activities before riding camels. This package includes soft drinks and water and lasts four hours.
You can take an evening desert safari tour if you want a more detailed and exciting safari trip. The evening safari includes a full barbecue dinner and everything a morning safari offers. 
Traditional Emirati cultural performances may be included in an evening desert safari, including belly dancing and tanoura performances.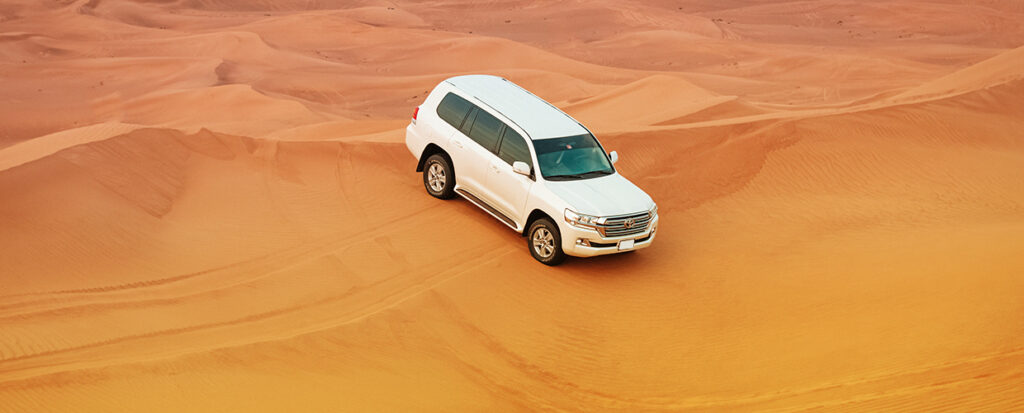 How to Plan For Your Desert Safari Tour?
It is not uncommon for Dubai desert safaris to include various entertainment activities and delectable food.  If you are a tourist or a long-term resident of the UAE, you must experience this exciting, must-do activity at least once in your lifetime.
Would you like to maximize your safari experience? Here's all you need to remember to enjoy and prepare for the experience.
Confirm Your Date and Booking of Desert Safari
You will need to make preparations depending on when you plan to travel. A desert safari in Dubai usually begins in the afternoon since most people go for evening safari trips. The timings may differ if you choose to go on an overnight safari in Dubai or an early morning safari. Call your tour operators to confirm your safari's exact pick-up location. 
Bring Some Food and Beverages
The ride on a desert safari can be bumpy. Therefore, eating a small meal before traveling is recommended. Anything that can be nauseating should be avoided. There will be plenty to eat at dinner, and you will not go hungry. At
Desert Planet Tourism
campsite, you will get plenty of water, coffee, and soft drinks to keep you refreshed and energized. 
Wear Appropriate Shoes, Clothing, and accessories
Desert safaris in Dubai do not have a dress code. Clothing should be modest, preferably made of linen or cotton in light colors. Whether you're a woman, a man, or a child, shorts, light tops, t-shirts, and jeans will do. Evenings are ideal for wearing jackets or shawls. As soon as the sun disappears, the temperature can rapidly drop.
As sand particles can accumulate in your footwear, you should avoid wearing joggers or closed, formal shoes. Sandals, flip-flops, and open shoes are best for the desert. You must wear sunscreen, protective headgear (hats/caps), and sunglasses when you're out in the sun. Covering the face with the Keffiyeh, a traditional Arabian headscarf, is possible.
Bring extra cash or a credit card, as you may wish to purchase souvenirs, photographs, or videos from the campsite's official photographer. Please note, however, that shopping at these camps may be a bit costly. When making a purchase decision, take into consideration the product's value.
Don't Overpack For The Tour
It is advisable to carry a limited amount of items. This is helpful, especially if you share a vehicle with another passenger. It is also difficult to carry heavy bags around a campsite. Wearing heavy jewelry or carrying a lot of valuables is not a good idea.
What to Expect in Dubai Desert Safaris
In a typical desert safari in Dubai, you are surrounded by nature, adventure, and cultural experiences that are truly unforgettable. When you go on a desert safari, you will have the opportunity to enjoy the following attractions. Nevertheless, the inclusions will vary depending on your chosen Dubai desert safari.
Dune bashes typically involve using powerful 4X4 vehicles that experienced drivers drive. You will be guided through the wide expanse of dune fields in the most exciting way possible. Adventurers will undoubtedly find this a highlight of their Dubai desert safari experience.
Morning and Evening safari usually begin with a dune bashing session, and other activities occur afterward. 
The journey across the endless expanse of the Arabian Desert on a quad bike is one of the most exhilarating experiences of one's life. The best part is that you do not need any previous experience or special licensing to participate in this activity. An expert will teach beginner lessons about driving a quad bike; it's not that difficult. 
Embrace Traditional Arabian Hospitality
After the dune-bashing and a few stops, the group will arrive at a Bedouin-style campsite. 
Here, you will be greeted with Arabic coffee and fresh dates as a part of the welcome experience. You can also drink water, soft drinks, and juices to energize yourself before starting your next adventurous activity, mostly quad biking or sandboarding. 
A View of the Sunset or Sunrise
It is a specialty of most Dubai desert safaris to witness sunrises, sunsets, or both.  Whether you are an avid photographer or not, the spectacle of the sun rising or setting amidst the raw desert beauty cannot be overlooked.
In Dubai, hot air ballooning is an experience like no other. Luxury hot air balloon rides over the Arabian Desert are a perfect add-on to Dubai holiday packages. During the day, the golden dunes of the sand transform into a range of colors along the pristine landscape of Dubai, which the Hajar Mountains frame. 
An aerial journey from 4000 feet above the desert provides a 360-degree view of Dubai, making you feel floating in the sky. Given the splendor of the ride, the best photographs are guaranteed during the journey. Although it is an adventure activity, the trip in a hot air balloon is an experience that provides a sense of tranquility and peace.
Participation in Cultural Activities
Rather than just adrenaline-pumping activities, a private desert safari Dubai offers many opportunities to learn more about the region's fascinating traditions and cultural heritage. Consider tattooing your hands with striking henna designs, trying Shisha smoking, or engaging in falconry to commemorate your Dubai desert safari.
The Desert Safari in Dubai is, without a doubt, the best nightlife experience in the world. After the sun sets, the night sky of the Arabian Desert will display the best celestial events. Your desert camps offer complimentary treats and Arabian coffee as you relax and enjoy stargazing. 
Under the canopy of stars, the quiet aura of the desert is perfect for relaxing after a long day of adventure. Once the day's heat subsides, it is possible to see some of the many animals that live here. Compared with Dubai's extravagant lifestyle, the desert provides a serene setting.
Nights Full of Excitement
In addition to the daytime adventure, the nighttime offers a wealth of entertainment, making the Dubai desert safari a great place to visit at night. Various entertainment activities are available at the Arabian desert safari Dubai, including fire eating, stilt dancing, swirling, and belly dancing. 
We offer elaborate barbeque dinners and mouth-watering Mid-Eastern delicacies in our luxurious tents, immersing you in the most traditional cultures of the desert. Under a star-studded sky, belly dancers perform under the most exquisite lighting, bringing alive the splendor of the location. Camping in the Dubai desert is a unique experience that provides tourists a once-in-a-lifetime experience.
If nighttime activities are what you seek, then you can book Evening and Overnight desert safari packages. Let's discuss these in detail.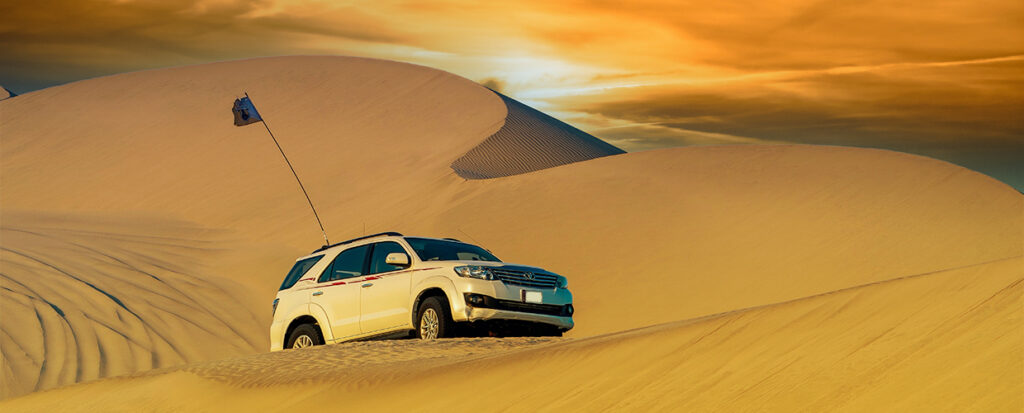 What are the Different Types of Desert Safari You Can Expect in Dubai?
Following are some of the most popular desert safari activities you can book on your Dubai vacation.

Many visitors do not have sufficient time during the night or evening because their trip is packed with other evening activities. Such tourists would benefit from the morning safari offers. For this excursion, you do not have to wake up too early, nor do you need to reserve your evenings for the safari. You can go on a morning safari before you complete your other activities.
During the morning hours, most of the city malls and entertainment centers are closed, and during this time, morning desert safari tours can be booked before the hustle and bustle of the city starts. Also, when you do not wish to go camping and have dinner, you may prefer an early morning or daytime safari.
An evening Desert Safari is the perfect way to create unforgettable memories for your vacations in Dubai. You are fortunate enough to witness the desert of Dubai at its finest. A beautiful sunset looks stunning as the sun sets and the sky turns crimson red. The experience is one of a kind.
The evenings are also perfect for taking pictures since the crimson sun and painted sky provides a magical backdrop. Riding a hot air balloon during the evening Safari and engaging in dune-bashing activities is possible. Consider rising in a hot-air balloon and admiring the blending of sunset colors in the endless sky while slowly ascending.
Further, you can add a BBQ dinner and campsite stay to your evening safari package for a more immersive experience of desert traditions.
There is something adventurous about the night itself. Among all safaris, overnight safaris are the most thrilling. Adventure lovers should not miss out on this exciting experience. In the desert's heart, you can camp, sleep in tents, and explore the desert in its eerie darkness at night.
The overnight safari is also the most entertaining, with various fun activities and events. Examples include camel rides, sand skiing, dune buggy rides, henna arts, barbeques, dinners, camping, and belly dance performances. Ultimately, you will experience sleeping under the stars in your fuzzy blankets.
Private Desert Safari Dubai offers you an all-inclusive and customized package to meet the needs of your group. It is important to note that a private desert safari differs from other safaris typically organized for large groups of people.
You'll have your private pickup vehicle and guide when you book a private desert safari. The safari activities we mentioned, such as dune bashing, quad biking, and camel riding, can be customized according to your preferences. You can even access a private tent and a customized buffer dinner.
It is important to note that each type of safari has advantages and disadvantages. If you have a flexible schedule and are available, you can always pick the one that best suits your needs. You cannot afford to miss an opportunity to experience a desert safari in Dubai. Otherwise, your holiday will be incomplete.
Additional Desert Safari Tips for Dubai
Following are some helpful tips for preparing for a private desert safari Dubai trip. 
The first step for booking a desert safari is deciding whether to include certain inclusions or experiences in your package. You can customize your package as you desire. For each safari, we offer multiple packages, so you choose easily. 

Ensure that you pre-book so that there are no last-minute misunderstandings. If you are interested in taking a desert safari, contact our staff members on the Whatsapp number below for further assistance.

Use a direct desert safari service provider; this method eliminates middlemen, resulting in maximum savings with the highest quality services.

There are two types of Dubai desert safaris: those with transfers and those without. If you wish to make the most of your desert safari, we recommend booking it with roundtrip transfers from Dubai to your hotel so you will not have to worry about a late-night drive or getting lost on the way back.

You may choose between shared or private transfers when it comes to transfers. Shared transfers are cost-effective, whereas private transfers are customized for you and your group and can be costly. At Desert Planet Tourism, we offer both transfers, so let us know what you need.   
In the heart of Dubai's golden landscapes, the Desert Safari offers an enchanting escape from the city's bustling pace. It's a journey that combines adventure and serenity into one ultimate package.  As the stars illuminate the desert night, this adventure leaves an imprint on your soul, a reminder that amidst the modernity of Dubai, the timeless magic of the  Desert Safari Dubai is a treasure waiting to be discovered.