Among all the tourist adventures found in a private desert safari Dubai is a must-do for everyone, especially if you are traveling for the first time. There are different desert safaris offered in Dubai depending on time and duration, and you have plenty of choices to choose from. However, an evening desert safari is the best and most popular option of all.
The evening time is perfect to kick off the tour with a dune bashing ride and enjoy the beautiful sunset that happens. Plus, afterward, there are a ton of activities that make this safari a memorable one. Interested in finding out more about it? Let us bring you some valuable insights into an evening desert safari tour and what it offers.
What is Evening Desert Safari Adventure All About?
A desert safari is an off-roading trip you can enjoy in Dubai with your friends and family. Here, you can try out some exciting activities that are sure to jolt your body and give you a memorable experience. 
An evening desert safari tour happens around 4:00 PM and goes till all night upto 10:00 PM and is the best option among the three offered, the other two being Morning and Overnight Safaris. Here, you can enjoy sports activities like dune bashing, quad biking, sandboarding, and dirt biking, and besides these, take part in cultural experiences at a Bedouin Camp. All of these provide a well-rounded and memorable adventure. 
If you are interested in booking an evening safari tour for your next trip to Dubai, then call Desert Planet Tourism llc to get the best deals and packages you can enjoy. Tell us your budget, and we can arrange a customized tour for your group. 
Activities You Can Enjoy in an Evening Desert Safari Tour
Here is a complete breakdown of activities you enjoy on an evening safari tour. 
Pickup in Luxury Vehicle From City 
An evening desert safari starts with a pickup service in a luxury land cruiser. The pickup location can sometimes be of your choice if it's a private pickup or a random point in the city if it's a shared pickup. Private pickup is a little expensive, but if you are a group of 6-7 persons, then it is the best choice; otherwise, a shared pickup is more economical. 
Whatever your pickup choice is, you will surely have a wonderful experience going to the desert, sitting in an air-conditioned vehicle, and enjoying the sights along the way. Notice how the vibrant city fades away slowly, and a barren desert appears. This will surely make you realize the magical transition of the city. 
After reaching the desert, you will be welcomed by the tour staff of the rental company, who will provide you with brief instructions to follow for the dune-bashing ride. Hop on board the 4×4 vehicle to begin the ride. An expert driver will maneuver the vehicle on tall dunes and challenging desert terrain, which is sure to provide the riders with fun and thrill. 
Dune bashing ride usually lasts 30-40 minutes, and remember it is not for the faint-hearted persons. Some tour operators don't allow children below 10 to participate in it. You must know about the age limit before taking your family for the ride. 
It is truly impossible to compare the thrill of quad-biking in the Arabian Desert to anything else. If you enjoyed the dune-bashing ride and want to take your experience to the next level, then book the quad biking tour.  
Quad bikes are ATV vehicles that you can drive at your own pace to explore the vast open canyons and climb the massive dunes of the desert in a heart-pounding adventure. Unlike dune bashing, here you get to drive the vehicle yourself, and you will be provided with learner lessons from professional guides if you have never driven a quad bike before. Further, wear the safety equipment provided and follow your guide's instructions about the speed limit and the route to follow. 
Bring along a GoPro camera to record the whole journey so that you can later reminisce about it with your friends and family. Take necessary breaks along the tour to energize your body.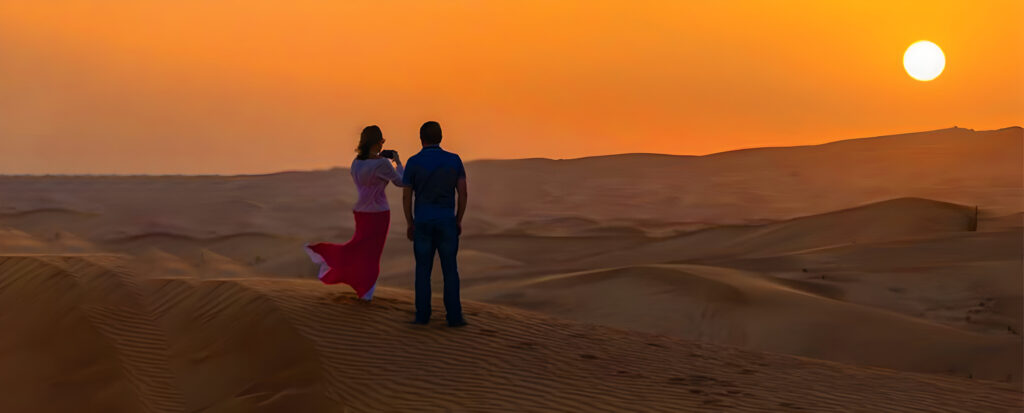 One of the main attractions of the evening desert safari is the chance to witness the mesmerizing sunset views. The changing colors of the sky over the dunes transform the golden sand, which creates the perfect background to capture stunning photographs of the desert and your tour as well. 
Around the time of sunset, take your quad bike on top of a tall dune and wait for the sun to drop over the horizon to witness the view. Take your camera fully charged or use your phone, but you must capture the view. 
Similar to quad bikes are dune buggies that offer the same thrill and adventure, but dune buggy rides are more suitable for groups and can accommodate 4-persons per vehicle. So if you are 4-6 people in a group or a family, then we recommend booking dune buggy rides instead of quad bikes, which is more economical. 
Camels are also known as the ships of deserts and, for centuries, have been used by locals as a means of transportation and trade. As a tourist, you can experience the same sensation of riding these camels on the sand in a slow-paced ride while enjoying the surroundings. Also, if you are not that much into adventure rides like quad biking and dune buggy rides, then instead of those, you can book camel rides for a more peaceful experience.  
Evening desert safaris offer live entertainment performances at the campsite, which include belly dance, tanoura dance, and fire shows. Such shows enhance the experience of your evening desert safari in Dubai. These dances feature vividly colorful costumes worn by local performers and movements that symbolize praising the natural world.
You can also participate in henna painting sessions where an artist will decorate your hands with colorful designs; our lady friends will especially love this. You can dress in local attire and have a photo session while enjoying falcon shows. 
BBQ Buffet Dinner at the Campsite 
You must feel tired after quad-biking and dune-bashing sessions. You must be craving delicious food to fill your appetite. Well, at an evening desert safari, a sumptuous barbecue dinner is served at a campsite setting. Here, you can try some local delicacies such as grilled meats, salads, desserts, and traditional Arabian cuisine. 
At Desert Planet Tourism llc, you also have the option to choose from non-vegetarian and vegetarian menus; just inform us at the time of booking about your requirements, and we will take care of the rest. 
At desert camps, you will find small stalls and shops set by locals from where you can buy a souvenir as a reminder of your safari tour. The souvenirs can be hand-crafted items, traditional clothes, or cutlery items. Keep some spare cash in hand to buy these items; obviously, they don't accept ATM cards. 
Well, after dinner, you conclude your evening desert safari adventure and you will dropped off in the city in a similar fashion when you were picked up earlier. 
Why is Evening Desert Safari More Popular?
As mentioned earlier, the evening desert safari is the more popular choice among the three choices, which include Morning and Overnight safari, and there are specific reasons for that. 
The number one reason is obviously the opportunity to witness the sunset views, as we have mentioned already. Evening times are best for such views, and an evening desert safari even starts around this time as well. Dubai sunsets are very popular around the world, and many people who visit here are very keen on observing them. 
In the city, you can observe it on the beach, but the best views are offered in the desert.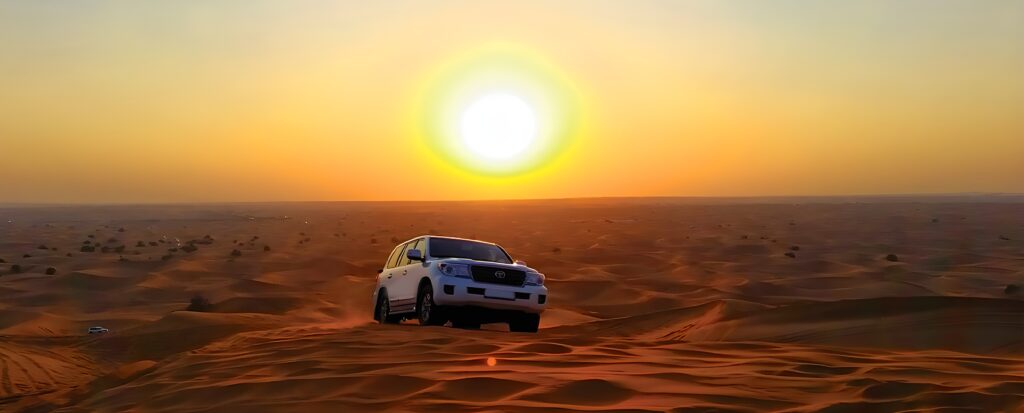 Daytime temperatures in Dubai are very hot, and it is nearly impossible to go and enjoy a desert safari around this time, especially in summer.  Evening temperatures are quite comfortable, and as the day cools down, the visitors can enjoy safari activities without the intensity of the midday sun.
Evening desert safaris often include a variety of activities, such as dune bashing, quad biking, camel riding, cultural experiences, and live entertainment, all of which we have discussed already. So many activities allow a broad range of tourists to come and enjoy their holidays. There is everything for everyone, regardless of their age. Those who want adventures with friends or someone who wants to spend quality time with their family in peaceful settings.   
The evening setting enhances the cultural atmosphere of the desert safari experience. Traditional activities like henna painting, dressing in Arabic attire for photos, and live performances like belly and tanoura dance contribute to a more authentic cultural encounter that is impossible to find in the city. (Important Note: Morning Desert Safaris don't offer any cultural shows) 
Convenient Timing for Tourists
The evening time is very convenient for tourists as during the day they can explore the city surroundings like malls and restaurants and enjoy air-conditioned facilities. Later on during the day, they can go on a desert safari tour and maximize their time in Dubai. 

Even though evening safaris are roughly 6-7 hours but they are shorter compared to overnight safaris, where you spend the whole night in the desert. If you are busy the next day and can't afford to spend the night away from home, then an evening desert safari is the right choice for you. 
In the end, it all comes down to individual preferences about choosing the ideal desert safari tour. Every safari has its charm and unique attributes, but an evening safari based on the above reasons is the most sought-after tour. For more information regarding booking the Evening Desert Safari tour, check out our service page. 
An evening desert safari in Dubai is a perfect blend of adventure, culture, and natural beauty, providing participants with a unique and unforgettable journey into the heart of the Arabian Desert. So, while in Dubai, it is a must-try activity. Many reputable safari tour operators offer suitable packages that will meet your budget and requirements.